Osijek 2019: Thunderstorms rumble Para trap
29.07.2019
Team Italy not bothered by weather at World Cup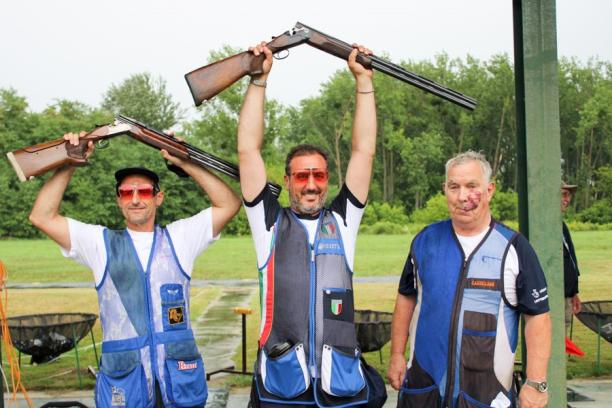 Italy's Saverio Cuciti captured the PT2 category in Osijek, Croatia
© • Dubravka Krmpota
By Amp Media | For World Shooting Para Sport
With thunder and lightning raging overhead and a torrential downpour sending spectators scurrying for cover, the Para trap finals had an apocalyptic feel at the World Shooting Para Sport World Cup on Sunday in Osijek, Croatia.
Not that this bothered Team Italy, the dominant force in the discipline, came away with two golds. Saverio Cuciti got things rolling by winning the PT2 (mixed trap standing SG-L), and admitted he did not even notice the ferocious weather.
"It didn't affect me," he laughed. "I had no idea it was even raining, I was so focused. The toughest part for me was when we had to stop for 15 minutes because the organisers had technical problems with the computer and that broke my rhythm slightly. But I'm mentally strong, and from then on it was fine. This is my third international gold medal, and I'm very happy."
"It was a bit nerve racking, you're under a bit of pressure, but at the end of the day it was so much fun"
The Italians did not manage to claim the PT1 (mixed trap seated SG-S) title as Cyprus' Neofytos Nikolaou claimed gold by two shots from Finland's Juha Myllymaki. But in the PT2 (mixed trap standing SG-U), Mirko Cafaggi sealed gold by edging a dramatic finish to pip Spain's Meliton Antonio Brinas Mora by a single shot.
But arguably the happiest man in the venue was Australia's Matthew Tingate who won PT2 bronze in his first international competition.
"It was a bit nerve racking, you're under a bit of pressure, but at the end of the day it was so much fun," Tingate said. "The people in this sport make it worthwhile. They're all incredibly supportive. For example, if you run out of shells, you have all the other countries donating shells, they'll look after you."
Tingate said he believed the dominance of the Italian teams in was largely down to the strong shooting culture within the country.
"Shooting runs in the blood for them, I suppose," he said. "They've got a bit of a home ground advantage in the way their country supports shooting. Whereas somewhere like Australia, we don't get much coverage, and as soon as you mention firearms, people tend to shy away from it unfortunately."
Jokic breaks world record
In the P4 (mixed 50m air pistol SH1), Serbia's Rastko Jokic produced a stunning performance to beat his long-time rival Oleksii Denysiuk and claim gold, breaking the world record in the process with a score of 228.6.
Jokic revealed he has spending less time on shooting lately as he now has a part-time job back home, a lifestyle change he feels is helping him produce better performances. "Honestly, I don't train that much because I work now, and probably that was the reason I broke the record because I'm more relaxed," he said.
"I've started doing welding. My friend has a workshop back home so that's basically my second job. All morning I train, and afternoon I go in the workshop. When you shoot, you train only in the morning and you have your whole day still. So I decided to start doing something else with my time and I think it helps because it means I'm not doing shooting because I need to, I'm just doing it because I love it."
Denysiuk had won P3 gold on the opening day of the competition on Thursday, and Jokic said that competing against the Ukrainian has helped push him to greater heights. "We have a rivalry in this event," he said. "I like it when I'm competing against him for the medals because he's a great shooter."
Plans pay off for Waloe
Sunday also saw the second vision impaired competition of the World Cup, with Norway's Daniel Waloe taking gold ahead of Britain's Michael Whapples and Poland's Katarzyna Orzechowska in the 10m air rifle prone.
"I can't really describe what it feels like right now, to win a gold medal in the first World Cup for vision impaired shooters," said Waloe. "I think it takes a while before it sinks in after a competition because you have to be so focused. It will probably dawn on me in a while. All I can say is it feels amazing. We had a strategy before starting this competition, and that was my only goal, I never planned on a result. Whether you get a medal or not depends on everybody, so this feels amazing."