Osijek 2019: Mixed teams bring thrilling ending
31.07.2019
India conclude World Cup with bang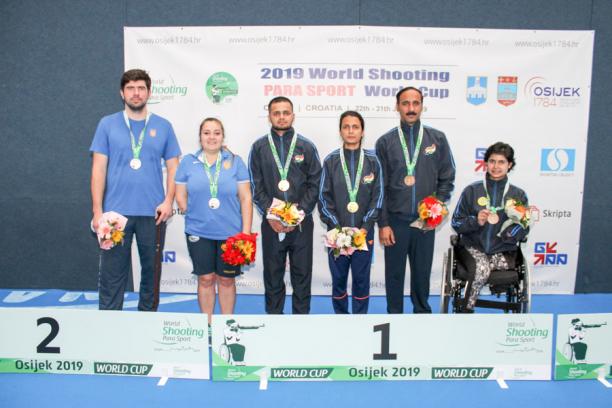 India beat Ukraine for gold in the mixed team 10m air pistol
© • Dubravka Krmpota
By Amp Media | For World Shooting Para Sport
The Osijek 2019 World Shooting Para Sport World Cup in Croatia came to a sensational conclusion on Tuesday with a thrilling final that saw India claim their fourth gold of the week.
It came courtesy of Indian pair Manish Narwal and Nisha Kanwar finishing ahead of Ukraine's Oleksii Denysiuk and Irina Liakhu in the mixed team 10m air pistol.
With nine medals in total – four gold, two silver and three bronze – it was a remarkable tournament for India who can now head to October's World Championships in Sydney, Australia, full of confidence as they look to secure vital quota places for the Tokyo 2020 Paralympics.
"It's a good sign for Indian shooting Para sport that we have new talents coming up very quickly"
"We unfortunately don't have a continental games where we can obtain quota spots so we have to go to the World Championships to get them," said India coach Subhash Rana. "We already have four quota spots for Tokyo, but we are looking for five or six more in Sydney, and after Osijek, I am now feeling more confident. All of the pistol team have shot really well, good scores as well as the medals. Two of them have shot world records which will give them a lot of confidence."
Rana was particularly pleased with the emergence of new talents such as Kanwar, who left with two gold medals – including P2 (women's 10m air pistol SH1) gold – in her first international competition.
"It's a good sign for Indian shooting Para sport that we have new talents coming up very quickly," Rana said.
Despite winning his first gold of the World Cup on the final day, Narwal was still extremely disappointed, saying that he was unhappy with his scores which he felt were lower than usual.
"We recently changed a few things with his technique so we were not expecting too high scores," said Rana. "We wanted to check those technical changes in a major competition before the World Championships and we did that here. He's very talented and hard working, and we have to work a little more on him."
Bittersweet for Ukraine
Although he finished the competition with a silver medal, Denysiuk was also unhappy that he failed to add to his single gold – the P3 (men's 25m air pistol SH1) – which he won on the opening day of the competition, as it meant that he lost out in his personal rivalry with team-mate Andrii Doroshenko.
The duo were room-mates during the World Cup and declared that they were competing with each other to see who could return home with the most golds.
"I'm very unhappy because I lost first place to Andrii, because he won two," said Denysiuk. "I don't know what his reward will be yet, we will have to think about it. For me, I just want to return home and start training again tomorrow. There is no time to relax."
Not that Doroshenko was particularly overjoyed himself. Earlier in the day, Veronika Vadovicova had capped a magnificent World Cup by claiming her third gold of the week, helping Slovakia to victory in the mixed team 10m air rifle final, alongside Radoslav Malenovsky.
Vadovicova's cool nerves and sublime accuracy proved too much for Doroshenko and team-mate Iryna Shchetnik who had to settle for silver, with Thailand's Wiraphon Mansing and Wannipa Leungvilai taking bronze.
As the Ukrainian sat slumped in the stands, gazing forlornly into the middle distance, he revealed that despite his two individual wins, mixed team gold had been the medal he was craving most.
"Right now, beating Oleksii is perhaps the only thing I am happy about," he said. "I guess overall I'm happy with my week, but I wanted to show a higher level and have better results. This silver is a bad result because I know I can do better. I needed to make more shots. This was my favourite event, so I should have performed better. Maybe I was too anxious out there, I didn't understand why I wasn't shooting better scores and this just made me more nervous."
But on the other side of the stadium, the jubilation among the Thailand team contrasted sharply with the long faces in the Ukrainian camp.
"We are so happy," said Mansing. "This is the first medal for our country in this World Cup, so it's quite important for me and for us all. We have to make every shot count when we're competing against tough teams like Ukraine and Slovakia, and we did that."