Osijek 2019: Doroshenko and Denysiuk relive memories
26.07.2019
Ukrainians highlight opening day of World Cup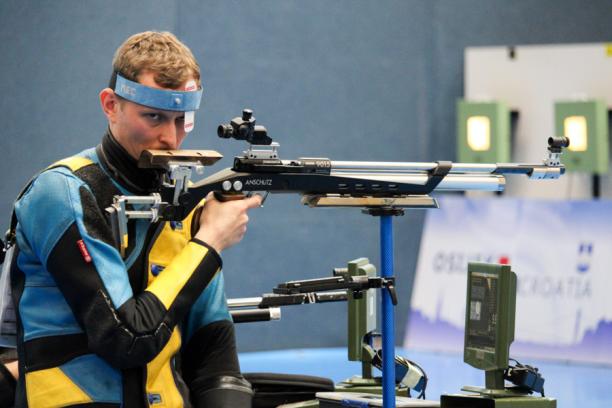 Andrii Doroshenko of Ukraine took gold in the men's 10m air rifle SH1 at the Osijek 2019 World Cup
© • Dubravka Krmpota
By Amp Media | For World Shooting Para Sport
The beads of sweat pouring down Andrii Doroshenko's face said it all, as the Ukrainian had just fought back to snatch a last-gasp victory in the R1 (men's 10m air rifle SH1) on a tension-filled afternoon at the World Shooting Para Sport World Cup on Thursday in Osijek, Croatia.
Throughout the day, gold seemed destined for Serbia's Zoran Poucki. The 51-year-old led the qualifying round and virtually the entire elimination round until Doroshenko pipped him with his final two shots, scoring 247.1 points to Poucki's 246.7.
Struggling to hide his disappointment, Poucki briefly posed for post-final photos before rapidly exiting while Doroshenko reflected on one of the most remarkable World Cup victories of his career.
"I see winning here as a very important step to future successes, on even bigger stages such as the World Championships or the Paralympics"
"It was a difficult final," said Doroshenko. "I began in a catastrophic way. But I managed to refocus, and I've been preparing for this kind of moment for a long time. I see winning here as a very important step to future successes, on even bigger stages such as the World Championships or the Paralympics. Hopefully I can repeat this performance in Sydney (for the 2019 Worlds) in October."
Doroshenko said he always feels good vibes when in Osijek, having won his first World Cup title in the city four years ago in the R6 (mixed 50m rifle prone SH1).
"I have a nice tradition in Croatian competitions," he smiled. "Everything is always good here."
Trembling hands
Doroshenko was not the only Ukrainian reliving good memories.
In 2015, Oleksii Denysiuk set a new P1 (men's 10m air pistol SH1) world record in just his fourth major international competition.
On Thursday, he returned to claim P3 (mixed 25m air pistol SH1) gold, edging out Russia's Andrey Lebedinskiy in a hard-fought final.
Afterwards Denysiuk admitted that at one point, with the pressure building, his hands were trembling.
"I call it 'mental shaking'," he said. "My hands were sweating and shaking so much that I could barely grip the gun."
But Denysiuk had an added motivation: he is staying in the same hotel room as Doroshenko and the duo revealed that they have a friendly competition going on at the Osijek World Cup to see who will leave with the most hardware.
"After seeing Andrii win, I had to do so too," said Denysiuk. "We have this game where we're seeing who will get the most gold medals, and medals in general, so if I hadn't won today, I would be falling behind."
Vadovicova shows her class
As a three-time Paralympic champion, Slovakia's Veronika Vadovicova showed why she is one of the most successful female athletes in the sport by comfortably winning gold in the R2 (women's 10m air rifle SH1), ahead of India's Avani Lekhara and Ukraine's Iryna Shchetnik, respectively.
It was an impressive display from Lekhara, a 17-year-old rising star, who bounced back brilliantly from a bad start to win her third career World Cup medal.
"At the start my heart was racing, but after 10 shots, there wasn't really any pressure on me because they were so bad, so from then on I was just focused on the target," Lekhara said. "It's always a great experience to compete with Veronika. You always learn new things and improve, and maybe someday I will be able to shoot more than her."
The Osijek World Cup continues on Friday with the vision impaired, R4 (mixed 10m air rifle standing SH2), R8 (women's 50m rifle 3 positions SH1) and R7 (men's 50m rifle 3 positions SH1); and is being streamed live on World Shooting Para Sport's website.