Osijek 2019: Brilliant Vadovicova strikes again
28.07.2019
Slovak picks up her second gold in Croatia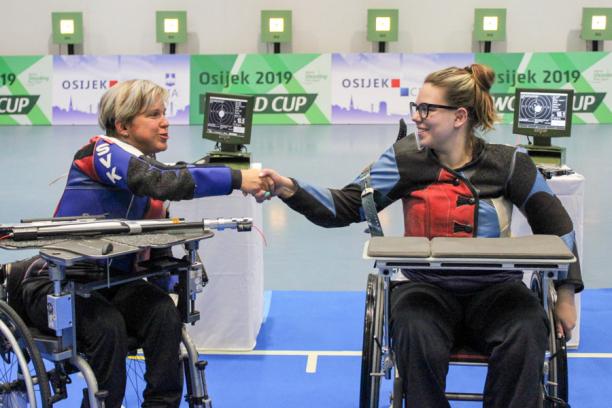 Veronika Vadovicova celebrates after winning World Cup Gold
© •
By Amp Media | For World Shooting Para Sport
Veronika Vadovicova's steely eyed marksmanship came to the fore once again, as the Slovak picked up her second gold of the World Shooting Para Sport World Cup by winning the R3 (mixed 10m air rifle SH1) on Saturday in Osijek, Croatia.
Vadovicova won R3 gold at the Rio 2016 Paralympics and the 2018 World Championships, and a score of 254.7 points proved sufficient to pip Beijing 2008 champion Matt Skelhon who scored 252.5.
Skelhon also took silver behind Vadovicova at last year's World Championships in Cheongju, where the Slovak broke the world record. However, this time, the British shooter was slightly disappointed with what he felt was a slightly sub-par display.
"I'm happy to come away with a medal," said Skelhon. "Especially after that performance! It was a bit of a funny final, and just a funny day in general. The scores were a little bit down across the board. I felt good during qualifying, felt good ahead of the final, came in and gave it my best, but then I started with a 9.9. At that point, it was like, 'What have I got to do?'"
Mental training
Skelhon fought back to ultimately take silver by a comfortable margin from third placed Taylor Farmer, who scored 230.9. He revealed that he's recently been focusing more on the psychological side of the sport, to try and avoid getting too down on himself during competitions.
"It's hard in a final when you shoot a 9.9, especially as it usually comes down to such tight margins," he explained. "One shot like that and that might be the end of it. But when it happens, you've just got to try and forget about it, breathe and take it easy. It's not the end of the world. But that isn't always straightforward as it's really hot in here, so you're trying to calm down, and you're sweating."
However, Skelhon felt that the mental training he's been putting in recently has been paying dividends, helping him stay in the moment and not get too frustrated during competitions.
"It's something I've been working on recently," he said. "For the last few years I've been getting really stressed out if I have a bad shot, getting angry, and it's just not helped at all. So I just took a step back in the last month or so, had a look at myself and decided, 'You know what, it ain't worth it.' It's just a bad shot and then you've got to crack on and make sure the next one's better. Just try and enjoy it, rather than getting pissed off with the odd one or two shots that don't quite go where you want them to."
Rolling in the Deep
While 34 year old Skelhon is one of the more seasoned shooters out there, having been competing at the elite level for well over a decade, 21 year old Farmer is at the opposite end of the experience spectrum.
"This was my first international R3 final, so placing third, I'm more than amazed right now," she said. "It's a pretty good feeling."
But while Farmer tends to play down her burgeoning talent, her ability definitely isn't in question. Last year she picked up her first two World Cup medals in Chateauroux, France, going on to be named 2018 USA Shooting Paralympic Athlete of the Year in the process.
She puts a lot of her success down to her ability to zone out in competitions and alleviate the pressure of finals. "Finals don't really bother me," she said. "It's a competition, but it's only against eight people at that point."
In Osijek, the 10m air rifle competitions have been played out to a background track of pop blockbusters from Beyonce to Michael Jackson, but rather than being a distraction, Farmer said this has actually worked to her advantage.
"I love music," she said. "It's such fun and I feel like if you're in a quiet room, you can get into your head a bit too much. Whereas when you have people talking and music playing in the background, it actually helps me zone out and just focus on the shooting. Some songs really help with that. For me, it's actually Adele's, 'Rolling in the Deep.' I'm not really sure why, but I shoot really well to that song!"
The Osijek World Cup continues on Sunday with the vision impaired 10m air rifle prone final, as well as the P4 (mixed 50m air pistol SH1) and R5 (mixed 10m air rifle prone) events, and the para trap final. It is being streamed live on World Shooting Para Sport's website.