Oksana Masters completes stunning biathlon treble in Canmore
18.12.2017
US Nordic skier wins third gold despite missed shots at opening World Cup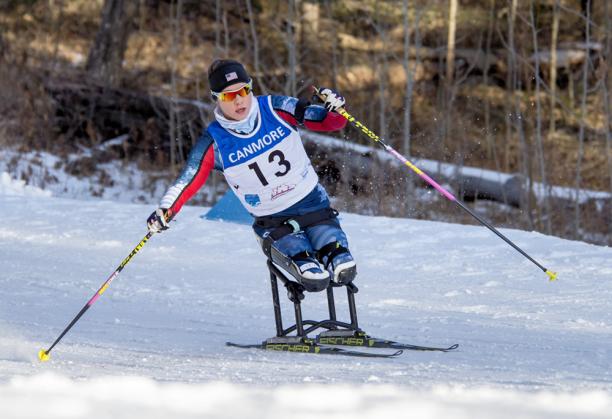 Masters capped off an exceptional biathlon competition with a third straight gold in Canmore
© • Pam Doyle
By Lena Smirnova | For the IPC
Oksana Masters capped an outstanding biathlon competition with a third consecutive gold on the final day of the 2017 World Para Nordic Skiing World Cup in Canmore, Canada. The US Nordic skier won the pursuit race despite missing seven shots on the range, after her fast skiing saw her finish ahead of neutral athletes Irina Guliaeva and Marta Zainullina by less than a minute.
"I definitely started sweating when I started missing more than I wanted to. But I had great skis," Masters said. "Every time I missed on the range, I had a little more motivation to let it out on snow. It worked out."
Her countryman Daniel Cnossen also celebrated a landmark day, as he won his first major international medal after seven years, nine days and six races of competition.
The US navy veteran took up Nordic skiing in 2010 and showed steady progress, but despite multiple attempts, he was still unable to reach the coveted podium.
Cnossen had two close finishes in the sit ski cross-country races in Canmore, and two more close calls in the biathlon events. But in the final race of the World Cup, Cnossen left no doubt that he deserved to be on the podium.
He took silver in the biathlon pursuit after shooting four clean rounds - a feat that was unmatched by anyone on the start list.
"Today's race was much better than the other two," Cnossen said. "I was configured to start a little further back today, so I didn't put a lot of pressure on myself. I tried to relax and take each step as it came."
Meanwhile, sit ski pursuit winner Ivan Golubkov struggled in the shooting range, missing three shots on the first lap and one shot in each of the following three laps.
"It was windy," Golubkov said. "The misses were always the same. I just need to be smarter to fix it."
Golubkov, who competes as a neutral athlete, made up for the extra penalty loops with fast skiing and managed to finish more than a minute ahead of Cnossen and bronze medallist Sin Eui Hyun, who missed two shots on the first lap, but shot cleanly afterwards.
It was the sixth gold medal for 22-year-old Golubkov, who won all six of the cross-country and biathlon sit ski events in the World Cup season's opener in Canmore.
Pursuit bronze medallist Sin Eui Hyun finished the competition with two bronze and one silver in biathlon. It is only his second season competing in Nordic skiing.
"Maybe in my first shooting, if I didn't miss two, I would be much better," the South Korean said of the pursuit. "The last leg with Daniel from the US…I was chasing him by a metre. I was trying to pass him on the hill. That was the hardest part."
"The US team has improved a lot from where they were last year, so I'll be more focused on my training for the rest of the year," he added.
Daviet dominance
It also worked out for Norway's Nils-Erik Ulset who grabbed his first medal at the World Cup in Canmore, a bronze in the standing pursuit.
The six-time Paralympic biathlon medallist finished fifth three times in the earlier cross-country and biathlon races, but shot cleanly in the pursuit and earned his spot on the podium next to four-time silver medallist Vladislav Lekomtsev and five-time gold medallist Benjamin Daviet.
For Daviet, it was a dream season opener. The French athlete struck gold in all of his five races, including three in biathlon. Daviet has been picking up the pace in recent seasons and now looks to be in perfect shape to challenge for his first individual medal at the upcoming 2018 Paralympic Winter Games.
Emily Young was the only Canadian to reach the podium on the last day of competition at the home World Cup. The local skier collected two bronze and one silver in cross-country, and topped off her performance with a bronze in the standing pursuit, her best result in biathlon.
"I'm not as confident in biathlon [be]cause I don't do it as much, but I'm happy it's done. The stress is over. I don't have to shoot anymore," Young said. "Overall I was happy with the shooting. I executed it as well as I could and then skied my butt off in the penalty lap a couple times, but I was happy with the skiing."
"I couldn't have asked for a better start to the season," she added. "Throughout the training season you have your up and down days, but I think overall I've had more ups than downs and it's showed in December here and it's positive moving forward through to March."
Complete results from Canmore are available on World Para Nordic Skiing's website.
The next World Cup takes place in Oberried, Germany from 20-28 January.