Norway and Canada Pick Up Big Wins in Calgary
01.12.2011
On the opening day of the World Sledge Hockey Challenge, host nation Canada took a thrilling victory over the USA.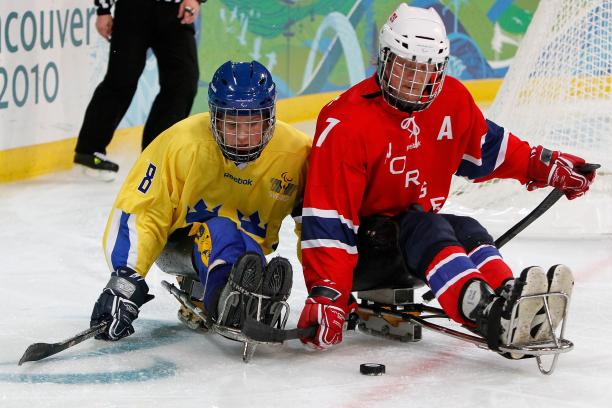 Norway won bronze at the Vancouver 2010 Paralympic Winter Games.
© • Getty Images
By IPC
Norway topped Japan to start the final day of preliminary action Wednesday (30 November) at the World Sledge Hockey Challenge in Calgary, Canada, and host nation Canada finished it off with a thrilling victory over the USA to secure the top seed heading into the medal round.
In a heated battle for first place, Anthony Gale, Brad Bowden and Marc Dorion all netted goals for Canada to sweep past the USA with a 3-1 victory and remain undefeated in the tournament heading into the medal round.
Bowden also had an assist and captain Greg Westlake had two helpers in the win, while goaltender Benoit St-Amand had 15 saves for the Canadians.
Tim Jones scored the lone goal for the Americans, finishing off a shorthanded two-on-one with captain Taylor Chace late in the first period to tie up the game at 1-1. But the Canadians were able to get past American goalie Steve Cash twice more to wrap up the win.
Meanwhile, Norway cruised to an 8-3 victory over Japan and third place in the preliminary round with a hat trick from Rolf Pedersen.
Norway's offense was quite balanced throughout the game, as Morten Vaernes scored twice, and Magnus Bogle, Thomas Jacobsen, Martin Hamre and Ole Bjarte Austvoll all chipped in goals. Jacobsen also pitched in with three assists.
Daisuke Uehara, Satoru Sudo and Kazuhiro Takahashi scored goals for the Japanese, who fought back from 1-0 and 2-1 deficits before Norway was able to break away with the game.
In Thursday's semi-finals, the USA will face Norway at 12:00 (MT) and Canada will face Japan at 19:00 (MT). The games are rematches of the semi-finals at the last World Sledge Hockey Challenge in April in London, Ontario, where Canada routed Japan, 11-1, and Norway snuck past the USA, 5-4.