No Nation Dominates on First Day of IPC Alpine Skiing World Cup
25.01.2012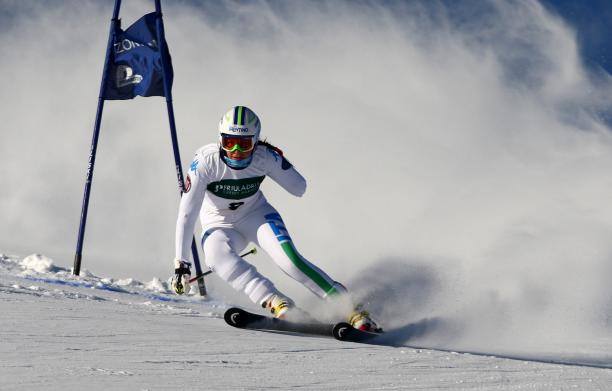 Melania Corradini. (ITA)
© •
By IPC
Big names topped the podium on the first day of the IPC Alpine Skiing World Cup, but with medals going to athletes from 12 different countries, no one team was dominating the competition.
Tuesday saw skiers thrash it out in the Giant Slalom, with two days of Slalom racing still to come.
In the men's Giant Slalom Visually Impaired, gold went to Russia's Valery Redkozubov. Slovakia's Miroslave Haraus and guide Maria Zatovicova were second, followed by Spain's Yon Santacana Maiztegui in third place.
Austria's Markus Salcher who has proved himself as one of the finest Giant Slalom racers this season, topped the podium in men's Standing event, beating fierce competition from France's Vincent Manuel-Gauthier, who was second. Australia's Mitch Gourley took bronze.
In the men's Sitting event, Japan excelled, with Taiki Morii taking gold and his teammate Takeshi Suzuki winning bronze. Sandwiched in the middle was Switzerland's Christoph Kunz in second place.
Topping the podium in the women's Sitting event was Canada's Kimberly Joines, who has made a comeback after taking last season off due to multiple injuries. She was just 0.83 seconds ahead of Germany's Anna Schaffelhuber, the European favourite, who won silver. USA's Laurie Stephens came third.
Russia's Alexandra Frantseva, who has so far dominated the women's Visually Impaired races at the European Cup this season, was pushed off her podium top-spot by fellow European, Slovakia's Henrieta Farkasova, who won gold. Frantseva won silver with guide Pavel Zabotin. Australia's Melissa Perrine with guide Andrew Bor came third.
The women's Standing race was an all-European affair with France's Marie Bochet winning gold. Hot on her heels though just half a second behind was Germany's Andrea Rothfuss in second place. Bronze went to Italy's Melania Corradini.
The Netherlands' Anna Jochemsen was disappointed not to have finished her race, but hopes for a better result in tomorrow's (Wednesday 26 January) Slalom races.
"First Worldcup race... DNF. Too bad you know! Try again tomorrow," she tweeted from @AnnaJochemsen.
For more information and full results, please visit www.ipc-alpineskiing.org