Morganti, Puch among those to watch in Arezzo
22.10.2015
The para-equestrian event is one of the last three-star competitions this season.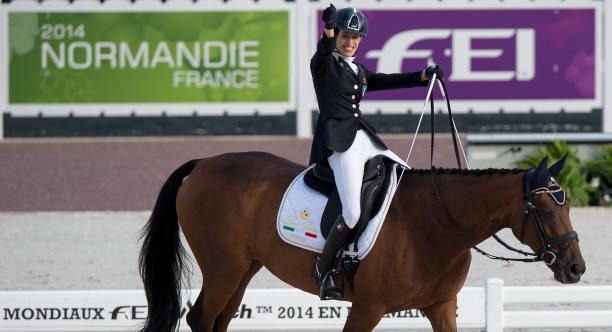 Italy's Sara Morganti
© • Jon Stroud
By Robert Howell | For the IPC
Para-equestrian riders from across Europe and from as far as Argentina and Brazil and Russia will gather in Arezzo, Italy, from 22-25 October for one of the last remaining three-star international competitions of the 2015 season.
The home match will be a chance for Italy's grade Ia freestyle world champion and European bronze medallist Sara Morganti to ride not only her usual competition horse, Royal Delight, but a new ride, Ferdinand Di Fonteabeti.
"My new horse is only six years old and I bought him back in June, just days before a competition," Morganti said. "We've been working hard with him though so it will be good to see what progress we have made.
Also taking part on a new horse, fresh from his double-gold medal winning performance at this year's International Equestrian Federation (FEI) European Para-Equestrian Championships, is Austria's Pepo Puch, on the gelding Fontainenoi.
Approximately 33 riders are confirmed for the event. Full teams from Italy, Austria and Switzerland and Russia will compete; the Russians in particular are chasing crucial Rio 2016 team qualification points. Individual riders from the Czech Republic, Poland, Uruguay and Sweden will join.
Full details of the competition, in English and Italian, can be found on the Arezzo Equestrian Centre's webpage.