Morganti hits personal bests in Arezzo
29.10.2015
The Italian showed why she is the grade la freestyle world champion at the para-equestrian competition.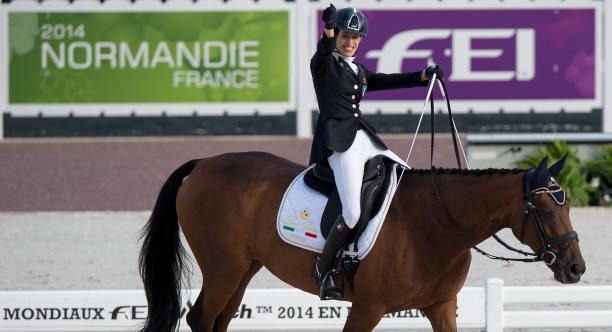 Italy's Sara Morganti
© • Jon Stroud
By Robert Howell| For the IPC
Italy's grade Ia freestyle world champion Sara Morganti recorded two personal best scores on home soil at the three-star Para-Equestrian Dressage completion held 22-25 October in Arezzo.
Riding Royal Delight in one of the last major international competitions of the season, Morganti scored 79.203 % in the individual test and 81.50% in the freestyle. The Italian also came second in the individual competition on her new horse, Ferdinand Di Fonte Abeti. Austria's Michael Knauder finished third.
In the Ia freestyle, Knauder took second, followed by Czech Republic's Anastasja Vistalova.
Writing on her Facebook page after the event, Morganti said: "I've only had Ferdinand for four months and already he has earned three per centage points more than in June. The competition confirms we are on the right road and I have learned a few more things that will be valuable for the future."
Newly-crowned European iindividual and freestyle champion Pepo Puch also had a good competition. Riding new horse Fontainenoir, the Austrian scored 78.851 % in the grade Ib individual test and a competition-high 82.333% in the freestyle. Russia's Nina Anufrieva was the only other grade Ib rider in the competition.
The grade II spoils went to Italy's Silvia Veratti on Zadok. She took both individual and freestyle titles with scores of 73.143% and 77.250%, respectively, both times ahead of teammate Francesca Salvade. Brazil's Elisa Melaranci was third in the individual test and Austria's Thomas Haller third in the freestyle.
Sweden's Louise Jakobsson Etzener took both the grade III individual and freestyle titles riding Zernard, ahead of Switzerland's Celine Van Till on Amanta. Etzener scored 75.163% in the individual competition and 80.553% in the freestyle. Third place in the individual went to Germany's Martina Berzinger, with Poland's Karolina Karwowska picking up third place in the freestyle.
Russia's top pair Natalia Martynova and Ilion were dominant in the grade IV competition, taking the individual title with 74.405% and the freestyle with 79.667%. Second place individual went to Switzerland's Nicole Geiger, with Russia's Natalya Zhavoronkova in third. The two swapped places in the freestyle, however, with Zhavoronka second and Geiger third in that competition.
Italy took the team competition crown, followed by Austria and then Russia.