Monica Boggioni swims to gold in Lignano
31.05.2019
Italian takes step towards regaining World Series overall title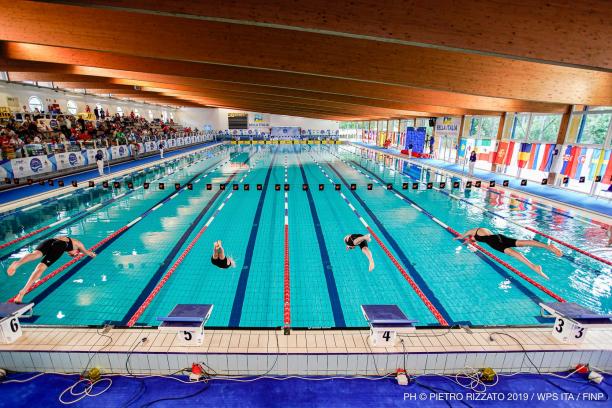 Monica Boggioni won the 200m freestyle on day one as she hopes to regain the overall title
© • Pietro Rizzato 2019 / WPS ITA / FINP
By World Para Swimming
Monica Boggioni made another step towards her World Para Swimming World Series overall title aspirations as she claimed victory on the first day of competition on Thursday in Lignano Sabbiadoro, Italy.
In front of her home crowd, the 20-year-old prevailed in the women's 200m freestyle by scoring 938 points. She was followed by Russian Elizaveta Barbatina (910) and Angela Marina (906).
A standardised points system is used to calculate each athletes' results as swimmers from multiple categories compete in each event.
Three-time world champion Boggioni won the first edition of the World Series in 2017 and is hoping to regain the overall title after losing it to Great Britain's teenage sensation Louise Fiddes the following year.
Hosts' multiple celebrations
Boggioni was not the only Italian to reach the top of the podium on day one.
Mexico City 2017 world champion Antonio Fantin (1,050 points) showed outstanding form as he stormed to gold in the men's 100m freestyle.
Compatriot Simone Barlaam (1,020) ended second but lowered his own S9 European record with a time of 54.29. It was an all-Italian podium as Rio 2016 Paralympic champion Francesco Bocciardo (1,007) came in third.
Fantin again finished first in the 200m freestyle, this time after securing 1,054 points. Bocciardo (1,049) was second and Spain's Antoni Ponce (993) third.
Paralympic bronze medallist Vincenzo Boni (974) gave Italy a third gold in the men's 50m backstroke. Czech Republic's Arnost Petracek (953) and Turkey's Beytullah Eroglu (922).
Other winners
Great Britain's Paralympic champion Alice Tai (1,035) was the winner in the women's 100m freestyle. Two Italians followed her into the podium: Rio 2016 silver medallist Arjola Trimi (969) and multiple-world champion Carlotta Gilli (968).
Russian Anastasia Diodorova (1,020) won the women's 50m backstroke ahead of Italy's Arianna Talamona (908) and Turkey's Sumeyye Boyaci (871).
Competition is being live streamed on World Para Swimming's website. Full results are available on the event's official website.
The season finale World Series event will again take place in Berlin, Germany, for the third year in a row, between 6 and 9 June.