Monica Boggioni begins World Series defence at home
23.05.2018
Italian swimmer heads all-star line-up in Lignano Sabbiadoro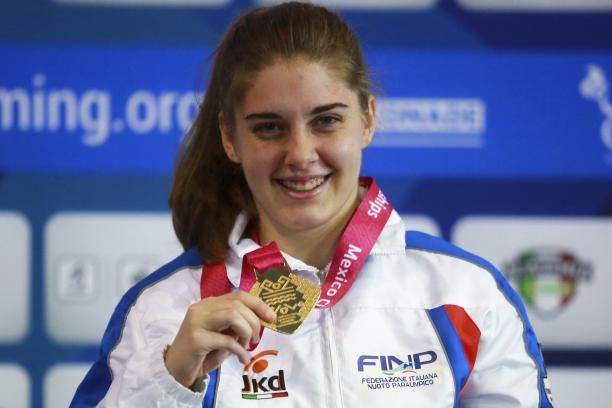 Monica Boggioni ended Mexico City 2017 with three golds and a new world record
© • Getty Images
By Adam Bailey | For the IPC
Italy's Monica Boggioni will begin her title defence in home water as the World Para Swimming World Series returns to Europe this weekend (24-27 May).
The 19-year-old is one of 216 swimmers, representing 31 nations from five continents in Lignano Sabbiadoro; the first Italian city to host the World Series.
Boggioni broke three world records at last year's World Series finale in Berlin, Germany, to take the women's overall title. She then rounded off 2017 by claiming six medals, including three golds, at the World Championships in Mexico City.
The Italian will compete in five events across four days of competition, including the three events she won gold medals in at last year's Worlds (50m freestyle, 100m freestyle and 150m individual medley).
It will also be a busy weekend for Boggioni's compatriot Francesco Bettella both in and out of the pool. The two-time Paralympic medallist and double world champion is president of the Local Organising Committee, and, whilst he has been busy ensuring all the event logistics are in place, the 29-year-old is also set to compete in Lignano Sabbiadoro.
Bettella will compete in five events, including the 50m and 100m backstroke; two events the Italian won gold in at last year's World Championships.
The 50-strong Italian delegation also includes Federico Morlacchi, who won seven medals at last year's World Championships, and Carlotta Gilli, who won six medals.
Among the international stars competing in Italy will be Brazil's Daniel Dias, who topped the overall men's standings last year.
The multi-Paralympic champion got his season off to a superb start in Sao Paulo last month, winning gold in all three of the events he competed in. The 29-year-old will compete in the 50m and 100m freestyle, 50m backstroke and 50m butterfly this weekend.
Another swimmer to impress in his season opener was the USA's Robert Griswold. The 21-year-old won gold in both the men's 400m freestyle and 100m backstroke in Indianapolis, and the US swimmer will compete in both those events in Italy, in addition to the 100m breaststroke and 200m individual medley.
Other swimmers to watch in Lignano Sabbiadoro will be the USA's multi-Paralympic champion Rebecca Meyers, who will compete in five events, and Ihar Boki of Belarus, who was the most successful athlete at the Rio 2016 Paralympic Games with six gold medals.
Following Lignano Sabbiadoro's maiden World Series, the final two events of the 2018 season take place in Sheffield, Great Britain (31 May-3 June) and Berlin, Germany (7-10 June).
The Lignano Sabbiadoro World Series will be streamed live on World Para Swimming's website. Results will be available here.