Model of Barra Olympic Park tailors for visually impaired
28.04.2015
Detailed replica unveiled to mark 500 days until the Paralympic Games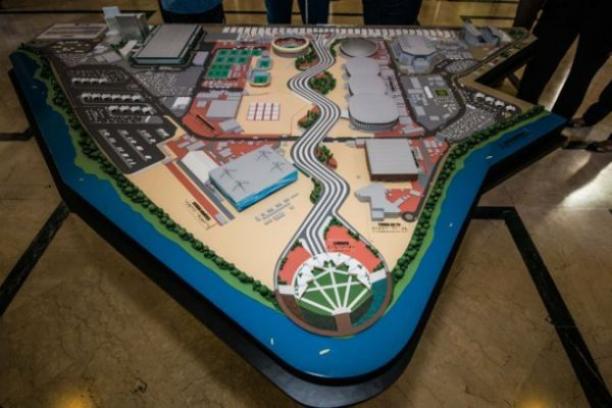 The 1.3m² model of the under-construction Barra Olympic Park represents a real-life area of 1.18 million m²
© • EOM
By Rio 2016
"It is designed for kids, adults, for everyone, including visually impaired people."
A scale module of Barra Olympic Park, the heart of the Rio 2016 Paralympic Games, was unveiled on Monday (27 April) as part of the 500 days to the Paralympics celebrations.
It is tactile in order to allow people with a visual impairment to grasp the scale and complexity of the park, which will feature nine sports venues, as well as the international broadcast centre and main press centre.
"Thanks to this model, which is a faithful and realistic representation, the public will be able to get to know the Olympic Park," said Joaquim Monteiro, president of the Municipal Olympic Company. "It is designed for kids, adults, for everyone, including visually impaired people. They will be able to perceive everything: the venues, the streets, Via Olímpica (the main thoroughfare), the lagoon, the vegetation…"
The model was unveiled by Rio city mayor Eduardo Paes at the Benjamin Constant Institute, a school for people with visual impairment in the city. It will be open to the public in this location for one month and displayed in the Olympic Park during the Games.
The 1.3m² model represents a real-life area of 1.18 million m² – equal to 165 football pitches. The base is made of wood and fibreboard, while the buildings and other elements were created using a variety of materials, such as PVC sheets, acrylic, wood, beads, tiny plastic balls and sand, all finished off with paint and varnish. There are 250 buses and 800 cars spread around the model, and Braille signs the visually impaired to identify the different venues.
The man behind the model is 60-year-old architect Flávio Papi, who has worked in scale modelling since his 20s and spent two months working on the miniature Olympic Park.
"An architectural model is normally very delicate, but this one needs to be more resistant, since it will be touched all the time," Papi said. "Some elements were not included, such as people or lamp posts, as they would be quite pointed and could have hurt people."
Papi was assisted by Marcos Lima, a visually impaired employee of the Rio 2016 Organising Committee who works in the Paralympic Integration department.
"I love these kinds of miniature models as they help me see the word," Lima said. "This model is changing the way I see the Olympic Park, as it will for other people. It will be available for all the National Olympic and Paralympic Committees that visit the Park during its construction, and for everyone who visits the park during the Games."