Milan-Cortina to stage 2026 Winter Paralympics
24.06.2019
IPC President congratulates winning bid committee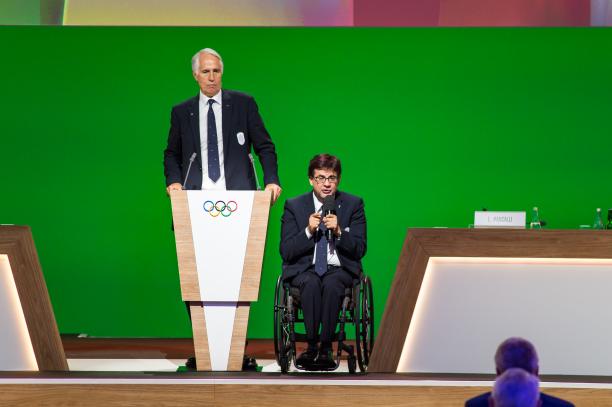 Giovanni Malago, President of NOC Italy, and Luca Pancalli, President of NPC Italy, at IOC Session which chose Milan-Cortina as hosts of the 2026 Games
© • Robert Hradil/Getty Images
By IPC
The International Paralympic Committee (IPC) has congratulated Milan-Cortina 2026 after they won the right to host the Olympic and Paralympic Winter Games.
At the 134th IOC Session in Lausanne, Switzerland, on Monday (24 June), Milan-Cortina polled the majority of votes from IOC members, finishing ahead of Stockholm-Åre.
Andrew Parsons, IPC President, said: "I would like to send my warmest congratulations to the Milan-Cortina 2026 bid committee for their success in winning the right to stage the 2026 Paralympic Winter Games.
"Italy has a very rich history of staging major winter Para sport events, having staged multiple World Championships, as well as the Torino 2006 Paralympic Winter Games.
"These Games promise much for future generations of Italians; they increase sport participation, encourage sustainability and drive social inclusion. I am confident these will be great Games and Games that will engage whole new audiences in Para winter sports.
"One of the stand-out features of the bid is the use of existing or temporary venues, with a strong emphasis on long-term legacy use. Throughout the process, Milan-Cortina 2026 has been in close liaison with the IPC and has done much to drive down costs in line with Olympic Agenda 2020/New Norm reforms. We look forward to working with the Organising Committee that will be established over the next seven years."
Chelsey Gotell, IPC Athletes' Council chairperson, said: "With today's decision, Para athletes around the world can now plan their journey to the 2026 Paralympic Winter Games.
"I am confident that between now and the Games, the Organising Committee will place athletes at the heart of its decision-making and will deliver athlete-centred Games."
The 2026 Winter Olympics will take place from 6 to 22 February and the 2026 Winter Paralympics will be held from 6 to 15 March.
Italy has competed in every edition of the Paralympic Winter Games winning 66 medals overall, including 14 golds. At PyeongChang 2018, 25 athletes represented the nation with vision impaired alpine skier Giacomo Bertagnolli and guide Fabrizio Casal winning two golds, one silver and one bronze. Manuel Pozzerle also picked up a silver in the men's snowboard cross SB-UL.
IPC Governing Board member Muffy Davis was a member of the eight-strong IOC Evaluation Commission.