Metro Cup win gives France boost
09.07.2019
Wheelchair rugby squad gain momentum ahead of Europeans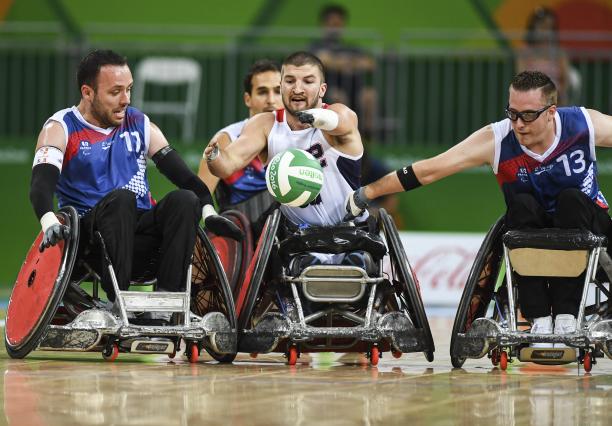 Jonathan Hivernat (No. 11) will try to lead France to another Paralympic Games
© • Getty Images
By Beau Greenway | For the IPC
France will go into August's European Championship Division A full of confidence after an unbeaten display to claim gold at the Metro Cup in Warsaw, Poland.
The rapidly-improving French outfit saw off a host of quality European opponents, culminating in a 47-42 victory against Germany in the final on Saturday.
France set up the result with a fast start, leading the Germans 12-8 after the first quarter.
"The team is reaching a certain maturity, just waiting to grow by confronting the best nations in the world"
Despite a late turnover in the second quarter, France maintained a four-goal lead at the half.
Germany had burnt through their four timeouts with five minutes remaining in the third period, and France was able to control the final stages to secure the five-point triumph.
French star Jonathan Hivernat was delighted with the way his side played.
"The team has been preparing for [the European Championships] a while already, it is a continuation of the work we have provided in Sydney at the World Championships [last year] and everyone puts in all the ingredients to be ready for the tournaments," Hivernat said.
"The team is reaching a certain maturity, just waiting to grow by confronting the best nations in the world. All players of the France group work hard to give their best. We must continue in this working perspective to continue moving forward together."
But before France can consider an improvement on its Europeans bronze medal from Koblenz, Germany in 2017, there is a bigger goal in sight.
The two highest ranked teams at the 2019 Europeans earn direct qualification to Tokyo 2020.
"We want to fulfil the goal of qualifying for Tokyo 2020, and, at that moment, we can think about that match," Hivernat said.
"It is already a page of history that we have registered the wheelchair rugby team of France and we intend not to stop there, it will be an impetus for our team and our cohesion.
"This has inspired new players, who are today more and more successful. All teams will be ready and we will have to be ready for every game."
Defending Metro Cup champions Denmark finished with the bronze medal after a hard-fought 58-54 win against Brazil.
The final standings at the 2019 Metro Cup are:
1. France
2. Germany
3. Denmark
4. Brazil
5. Russia
6. Poland
7. Netherlands
8. Sweden
The European Championships Division A takes place at Vejle, Denmark, from 7-11 August.