Meet dressage rider and DJ Rihards Snikus
21.06.2019
European Championship favourite also likes mixing music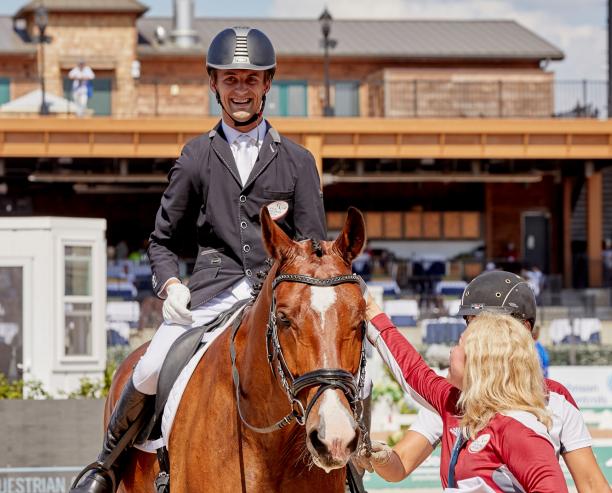 Rihard Snikus is also a disc jockey when he is not competing
© • Liz Gregg
By Rob Howell | For the IPC
Para dressage athlete Rihards Snikus likes to dance with horses. But the Latvian also likes to make others dance, and he finds his two favourite activities go hand-in-hand as he prepares for – hopefully – a golden breakthrough at August's European Championships in Rotterdam, Netherlands.
The 31-year old reached a major international podium with a silver and bronze at the 2017 Europeans in Gothenburg, Sweden. Another silver followed at last year's World Equestrian Games. Both results put him in strong position for the top of the podium in Rotterdam.
"But if you asked me if I'd rather be the greatest DJ in the world, or the greatest Para dressage rider in the world, I'd say definitely the greatest rider – sport is my main priority"
Paralympic.org caught up with Snikus, who is also a disc jockey (DJ) on the side, ahead of the Europeans that begin 19 August:
Paralympics.org: When you are not competing, you are a DJ. Tell us more about that.
Snikus: It's my second love behind horses. It's a hobby but I think of the horse dancing and I make others dance too – it unites both. It started when I was very small, and I discovered live broadcasts from nightclubs in Riga on the radio. I started to listen to those and record them too. And then at my first school disco I watched how the DJ played and then started to save my money to buy equipment and records. Those I have played for say I do it very well and I get hired a lot for weddings, parties, discos and sports events.
What is the biggest event you have DJd at?
That's hard to say, but one of them would certainly be at Latvia's biggest mountain biking event, and my performances at various nightclubs. I'd love to play outside Latvia, and maybe this dream will come true. I am already the only DJ with movement disorders in Latvia or perhaps even in the Baltics.
I love the music DJs play at clubs, house, and R&B, 70s through to modern music – anything that makes you want to dance. To be a successful DJ, you need to feel the desire of the dancer, be musical yourself, and very positive about the work.
But if you asked me if I'd rather be the greatest DJ in the world, or the greatest Para dressage rider in the world, I'd say definitely the greatest rider – sport is my main priority.
How did you start riding?
I started to ride to improve my health and coordination. My first coach, Olga Sellere, saw that I was able to do something more than just hobby riding and so my first competitive ride, and win, was in 2008 – at the first ever Latvian Para dressage competition.
How does riding help you manage cerebral palsy?
My balance is much better and my body much stronger, because keeping on the horse requires much effort. Although I don't think my restrictions are as severe as those who use wheelchairs and feel the difference on the horse much more. I also workout, have physiotherapy and regularly ride my bike, so my physical activities are quite diverse. But horse-riding gives me not just a physical, but also a psychological release. This is the aspect of horses that feels so very good: the psychological condition of the rider.
What do you remember most about your Paralympic debut at London 2012?
It's mainly the moment I was invited to London. I thought it was a joke and even emailed them back to say there had been a mistake. But then my grandfather came home and said we have to start looking for a horse for the Paralympics. The next biggest memory was of coming fourth – no one thought that I could get so close to the top three. After day one, when I came ninth, I didn't feel so good. But I am stubborn in going after my goals (a top six placing) and I got more than that.
You have come so close to winning a medal at many international events. Did you ever feel like giving up?
Any competition is a great challenge. I never know what to expect, but always hope for the best. But both losses and victories make me try even harder. Losses don't make me want to give up; they make me even stronger and more ambitious.
What do you cherish most about the 2018 World Equestrian Games?
A whole set of things brought that great result (my first global medal) – the stars came to the right place – including a bit of luck. That includes the same long-lasting workouts and training sessions with my coach Daria Tikhomirova and dressage trainer Agnese Kukaine which we do every day and every week. There's also the psychological stamina, what is the hardest thing. When you go into the competition arena, nothing bad must come out of you. You must forget everything, be calm, smile, and then everything will succeed!
How do you handle the high expectations for yourself?
It doesn't affect me. Of course, support is very important for any athlete, but I am doing what I have to do and sometimes that goes well and sometimes it doesn't. That's sport. I've also learned that you shouldn't promise what you can't give 100 per cent to. I feel very strong thanks to the medal I won in the USA and, in training, I do what I have to do to feel good and physically strong.