Madrid 2018: World Championships drawn
23.04.2018
'Group of Death' made up of Argentina, France, Colombia and Iran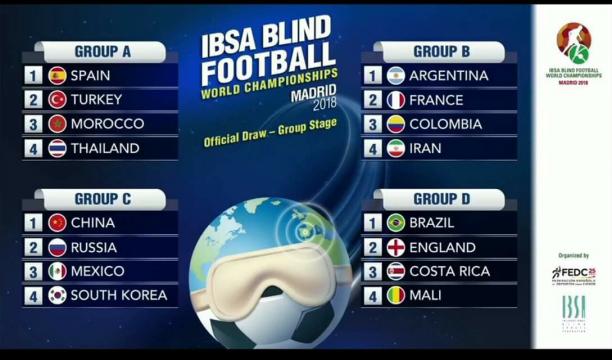 The groups for the Madrid 2018 World Championships were drawn in the Spaniard capital city on 23 April
© • IBSA
By IBSA
The groups for the 2018 International Blind Sports Federation (IBSA) Blind Football World Championships were drawn in host city Madrid, Spain, on Monday (23 April).
Sixteen teams will play in four groups between 7 and 17 June at the Colegio Sagrado Corazón.
Defending champions Brazil have been drawn in Group D alongside England and two debutants: Central American champions Costa Rica and Mali.
Spain have been drawn in group A with Turkey, African champions Morocco and Thailand. The hosts will play Thailand in the opening match on 7 June.
Asian title holders China will play European gold medallists Russia*, Mexico and South Korea in Group C.
Round off the draw were two-time world champions Argentina, London 2012 silver medallists France, South American emerging power Colombia and Rio 2016 Paralympic runner-up Iran in group B, arguably the toughest of all.
The first two teams from each Group will advance into the quarter-finals, where the teams placed first and second in Group A will face the ones who ended second and first in Group C, respectively, while the ones in Group B will meet Group D's.
The draw was hosted by IBSA Blind Football Committee Chairperson Ulrich Pfisterer. He was joined by a series of dignitaries and players, past and present, from Spanish football and sport.
"Blind football has grown exponentially over the last years and is currently being developed in 85 years. This World Championships will be a turning-point in the sport's history," said Pfisterer.
Madrid 2018 gets underway on 7 June with the Opening Ceremony and the first group stage match. The quarter finals and play-offs begin on 13 June with the final taking place on 17 June. As well as the title on offer the competition is also an important step on the road to the Tokyo 2020 Paralympics.
All 44 matches will be held at the Colegio Sagrado Corazón which has capacity for 400 fans. Entry will be free to spectators.
Brazil are the favourites, having won four consecutive Paralympic titles and three successive world titles.
The competition will also be the biggest in history with six teams qualifying for the first time: Mexico, Costa Rica, Mali, European champions Russia, Thailand and Iran.
The 2018 IBSA Blind Football World Championships are being organised by FEDC and the Spanish National Organisation for the Blind (ONCE).
*Editor's note: The International Paralympic Committee suspended the Russian Paralympic Committee on 7 August 2016 for its inability to fulfil its IPC membership responsibilities and obligations, in particular its obligation to comply with the IPC Anti-Doping Code and the World Anti-Doping Code (to which it is also a signatory). As a result of the suspension, Russian athletes cannot enter IPC sanctioned events or competitions, including the Paralympic Games.