Long is 'whole new swimmer with nothing to prove'
11.06.2015
A change in coaching set-up has led to the 23-year-old multiple Paralympic and world champion changing to a more laid-back nature as she prepares for July's Worlds.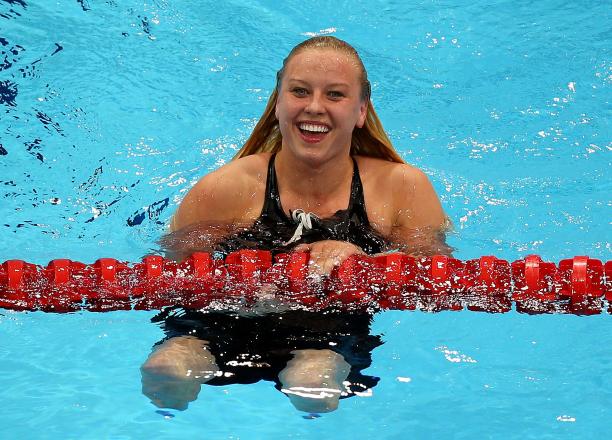 American swimmer Jessica Long has competed in three Paralympic Games, picking up 17 medals, including 12 golds.
© • Getty Images
By Abdullah Mahmood | For the IPC
"In my career I am just really proud of what I've done and it's kind of a whole new me, a whole new swimmer because again I don't really feel like I have anything to prove."
The USA's 12-time Paralympic and 19-time world champion Jessica Long has spoken of a shift in mind-set as a result of a change in coaching staff ahead of July's IPC Swimming World Championships.
"In my career I am just really proud of what I've done and it's kind of a whole new me, a whole new swimmer because again I don't really feel like I have anything to prove," Long said. "There was a time when I felt like my self-worth came from another gold medal but I'm 23, I'll be 24 in Rio [Paralympic Games], and I realise that swimming doesn't really define me."
Long, who will be entering her fourth World Championships from 13-19 July in Glasgow, Great Britain, indicated that after more than a decade at the top she needed to remember why she took-up the sport in the first place.
"We're doing it because we love swimming and that's how it started and somewhere along the way a little bit I kind of lost my spark, but you better believe when it comes time to step up and race I'm going to give it my all!"
The 2015 season has seen a change in coaching for the S8 swimmer from Maryland, with a decision to move swim team from the North Baltimore Aquatic Club (NABC) under Bob Bowman, who coached Michael Phelps, to the Loyola University set-up under Brian Loeffler, something which is already starting to have an impact.
"It's been kind of a big transition but it's amazing," Long said. "I've already seen a huge difference in my swimming and that's exciting! What I love about swimming under Brian is he works with each swimmer individually and he knows our strengths and our weaknesses and he's not afraid to push you."
Long, who lives with fellow US Paralympic swimmer Cortney Jordan, says that the decision was in part due to a desire to stay closer to home along with needing a more continuous coaching presence.
"Bob is going to Arizona this August and bringing a good amount of the team with him and I already did the whole being away from home training before London," she said. "I did that for three years before competing in London and wanted to stay home and stay closer to my family."
Long's form this year has been impressive and in April she smashed four world records at the Internationale Deutsche Meisterschaft (IDM) in Berlin, Germany. While none of the events are on the programme for Glasgow 2015 or Rio 2016 it certainly bodes well for her form heading into those events.
"I think it set me up really well," Long said. "Going into Berlin I really wanted to have fun and do some off events and see where I was at so it was really exciting. Always exciting where you're able to lower your times and whatnot so I had a really great time."
With 17 Paralympic and 23 World medals in total to her name from 11 years of competing at the highest level, Long certainly has a wealth of experience. She hopes to put that to good use at the Tollcross International Swimming Centre next month.
"I know I'm swimming seven events and I hopefully will be in a couple of the relays. It's going to be a heavy schedule, I will not have a day off but what's exciting is I know how to do that," Long said.
"I know how to train, I know how to step up and race when I'm tired and that's what Brian is training me for right now, getting through a week and at the end of it stepping-up and racing so I feel like I will be really prepared when the time comes."
The 2015 IPC Swimming World Championships will see around 650 of the world's best swimmers from 50 countries compete in the biggest qualification opportunity for Rio 2016.
Tickets are available at www.ticketmaster.co.uk/glasgow2015.
Media accreditation is also available at: www.paralympic.org/glasgow-2015/media.