London Anniversary Games preview
26.07.2013
More than a dozen world champions set to compete at London Anniversary Games.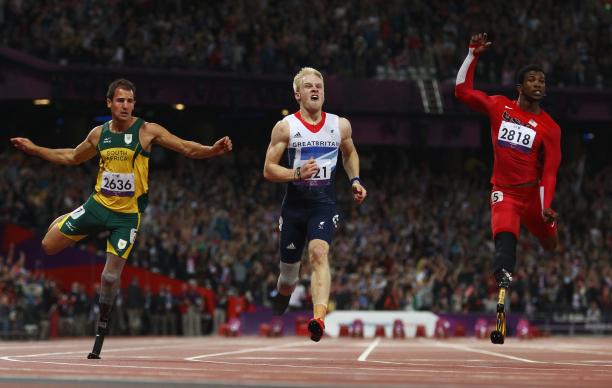 Bronze medalist Arnu Fourie of South Africa, Gold medalist Jonnie Peacock of Great Britain, silver medalist Richard Browne of the United States cross the line in the Men's 100m T44 Final a the London 2012 Paralympic Games
© • Getty Images
More than a dozen of the gold medal winners from the IPC Athletics World Championships in Lyon are set to line up at the London
Anniversary Games this weekend (Sunday 28 July) as athletes from around the world get their first chance to compete back at the Olympic Stadium since last summer's memorable Games.
Newly crowned world champion Jonnie Peacock heads the field in the highly anticipated 100m T43/44, where he faces the man who picked up silver behind him in Lyon, Richard Browne.
The American broke Peacock's year-old world record in his World Championships T44 semi-finals earlier this week and will be determined to win in London, but he will also have to get past Brazil's 100m T43 world champion, Alan Fonteles Cardoso Oliveira.
The 20-year-old poster boy of the Rio Games has so far achieved the sprint double in Lyon, with the 400m final and the relay still to come.
Oliveira holds the T43 world record of 10.77, which he set in June this year, and the Brazilian believes that he's in the best possible form to go even faster in London.
"It's going to be a very big party, I'm prepared to break the world record there. I'm going to fight for the world record in London.
"I've got one day off before the Anniversary Games so I'm going to be in good shape. The best are going to be there, so I'm going to be there.
"It's going to be a thrill, because that was the turning point of my life where everything changed. It's going to be very emotional and I'm eagerly awaiting it.
The men's 800m T36/37 features two gold medallist from Lyon – Paul Blake ran the race of his life to clinch the T37 title, whilst Irishman Michael McKillop reigned supreme in the T36 event, taking his third consecutive world title.
All three 200m T42 medallists from Lyon line up again in London – Great Britain's Richard Whitehead, Australia's Scott Reardon and Germany's Heinrich Popow. But home favourite Whitehead will be hoping he can impress the London crowds once again, 11 months on from his memorable victory at London 2012.
Aled Davies clinched double gold at the IPC Athletics World Championships in Lyon in the discus and shot put F42, and the Welshman will be hoping for another impressive display in the shot put at the Olympic Stadium, where he faces the two men he beat to world gold – Germany's Frank Tinnemeier and Croatia's world record holder, Darko Kralj.
Great Britain's world discus F44 silver medallist Dan Greaves will be hoping he can get the better of his arch rival Jeremy Campbell. The American beat Greaves to Paralympic gold last year, then took the 30-year-old's world title in Lyon.
Meanwhile quadruple Paralympic champion David Weir is sure to receive a rapturous welcome from the crowds as he races in the invitational race over one mile.
In the women's events, Great Britain's golden girl Hannah Cockroft can also expect a huge reception from the stands, having now achieved the 'double double' – 100m and 200m T34 world and Paralympic gold.
Cockroft lines up in the 100m T34 in London against a field including the two women who picked up silver and bronze behind her in France and last year in London – Amy Siemons of the Netherlands and Rosemary Little of Australia
"I know it's a fast track, I know I'm in shape, so I'll be looking for a good time," said Cockroft. "I'm there really to re-live the moments. I'd love to set a new world record, I know I'm in shape but I don't want to jinx it – we'll see what happens.
Another Brazilian track star returning to London is Terezinha Guilhermina, who has so far also picked up two gold medals in Lyon. The 34-year-old dominates the field in the women's T11 sprints and runs over 200m in London.