London 2019: Canadian swimming team named
17.04.2019
Paralympic and world champions selected for Worlds delegation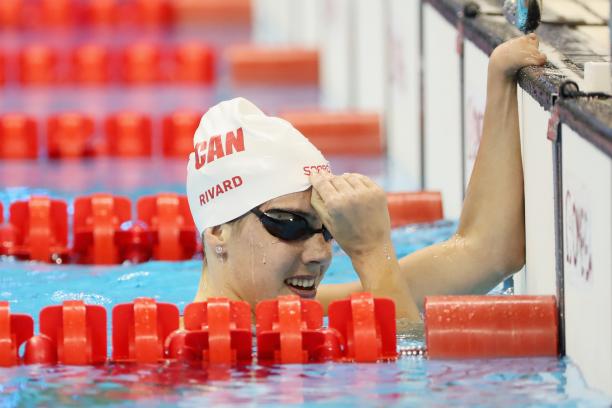 Canadian swimmer Aurelie Rivard
© • Getty Images
By Canadian Paralympic Committee
Swimming Canada has announced the teams that will represent the country at the 2019 World Championships and Lima 2019 Parapan American Games following the National Swimming Trials in Toronto.
Three-time Paralympic champion Aurelie Rivard will be leading the 18-strong delegation in London between 9 and 15 September.
"I approached these trials more like part of my training. I was not at my peak physically, but I still made top-five personal times, so I'm pleasantly surprised," the 22-year-old said. "I'm really happy with my performances and look forward to the coming months."
London 2019 will be her fourth World Championships, where she will be looking for her third title.
"For me, the most important thing at Worlds will be to set [personal bests]. It's the only thing I can control. It's always exciting to compete at the World Championships. People think it gets old, but it's not the case. I'm really looking forward to it."
Rio 2016 gold medallist Katharina Roxon will be another big name representing Canada.
"The preparation for everybody seems to be going well. Swimmers have some very impressive times so far since December. Everybody seems to be pretty much on track," Swimming Canada Paralympic Programme Senior Coach Vince Mikuska said.
Associate Director of High Performance and Para Swimming National Coach Wayne Lomas added: "This is certainly the strongest team that we were able to put together. We have an expectation of high-level performance to make the team. We know the athletes we send there will do a great job. They are the best team we've got available to us at this point."
Developmental team for Lima
Thirteen athletes have been selected by Swimming Canada for the Lima 2019 Parapan Am Games. Most swimmers will experience their first Games situation with 10 of them being under 20 years old.
"Congratulations to the athletes selected to represent Canada this summer," said Catherine Gosselin-Despres, Canadian Paralympic Committee Executive Director of Sport.
"Canada is home to many talented Para swimmers, and the Parapan Am Games will be a fantastic opportunity for many of our young athletes to gain important international experience in a big multi-sport Games environment," Gosselin-Despres added.
The team will be led in Lima by Head Coach Michel Berube.
"It's very exciting. We have so much time from now until the Games to prepare these athletes," said Berube. "This year I'll be going around the country doing club visits, working with the coaches and preparing these swimmers, so it's a very exciting moment."
Berube expects the team will do well in Lima between 23 August and 1 September.
"I would say the next generation of swimmers will be very successful," he said. "It's a matter of making sure these swimmers will grow and I'm very confident they will."