London 2017: China grab four golds
18.07.2017
Field events dominate the medal events on the morning of day five.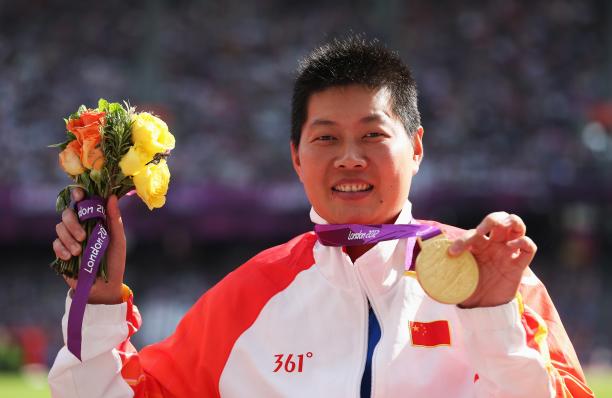 Gold medallist Liwan Yang of China poses on the podium during the medal ceremony for the women's javelin F54/55/56 at the London 2012 Paralympic Games
© • Getty Images
China climbed to the top of the medals table after a terrific morning (Tuesday 18 July) at the World Para Athletics Championships, claiming four gold medals at the London Stadium in Great Britain.
Liangmin Zhang was the first to succeed out in the field, defending her discus F11 title with a season's best of 35.11m.
The 31-year-old, who won Paralympic gold here in 2012, was joined on the podium by her teammate Hongxia Tang (33.63m), and Brazilian Izabela Campos (31.83m) – repeating the podium places from the Doha 2015 World Championships and Rio 2016 Paralympic Games.
"My only thought today was to win. It's great that China won gold and silver. Hongxia is my friend. We know each other well through sport and are good friends except during competition, then we are rivals. Afterwards we become friends again," said Zhang.
There was another Chinese one-two in the women's discus F44 as Juan Yao (39.72m) and Yue Yang (38.25m) took gold and silver respectively.
Yao, the defending champion and Paralympic gold medallist, only managed to register one throw – her first of the competition – but it proved good enough for the win. Bronze went to Australia's Sarah Edmiston (33.80m) with a new Oceania record.
"This is the second time I have won a gold medal in this stadium. I won the shot put at London 2012 [Paralympic Games]. When I walked in this morning, all the memories came flooding back," said Yao.
Enlong Wei improved on his silver medal from two years ago to take gold in the shot put F46 with a best of 15.64m; Germany's Mathias Uwe Schulze (15.31m) and Wei's teammate Zhanbiao Hou (15.29m) took silver and bronze.
Defending champion and Rio 2016 gold medallist Liwan Yang continued China's golden morning with a win in the shot put F54. Top ranked this year, the 39-year-old finished with a best of 7.43m – the only thrower to go over seven metres. Tunisia's Hania Aidi (6.82m) took silver and Mexico's Gloria Zarza Guadarrama (6.60m) set a new Americas record for bronze.
"London is my lucky place. I won two golds here in 2012 and the second I walked in this morning I knew it was going to be my day," said Yang, who won the javelin title here on Sunday (16 July).
"When I saw that the Tunisian was in London I could see she was in good shape. I was a bit scared to be honest, and I knew it would be a tough competition. I am so excited to win. Now I have two golds, but I don't know about winning all three – the discus is not my strength."
Ukrainian Dmytro Prudnikov was in record-breaking form in the men's triple jump T20 - hop, skip and jumping his way to gold with two new world records along the way.
Long jump bronze medallist 48 hours earlier, the 27-year-old proved unbeatable this time around, adding 17cm to the previous world record of 14.16m in the second round before managing a phenomenal 14.50m with his third attempt.
"I can say this was one of the most important victories in my life and I want to thank my family and the fans for their support. Now, I will have one month holiday and then will train for the European Championships next year," said Prudnikov, who was joined on the podium by Portugal's defending champion Lenine Cunha (13.03m) and Argentina's Alain Omar Villamarin (12.57m), who set a new Americas record.
"I did almost everything to jump well in London. In the end, it was not that easy because I had some pain in my knee after I got a bit injured. But generally, I am satisfied with my jumps as they went well and technically it was also good. I felt in shape and was ready for the world record because I trained a lot - also the crowd helped me a lot."
There was a new world record too for in-form Brazilian Andre Rocha in the men's discus F52. The 40-year-old has already broken the world record this year, although it took him until the fourth round to pass the 20-metre mark when he threw a massive 23.80m.
An emotional Rocha said afterwards: "You cannot imagine how important this competition was to me. Just a couple of months ago, I was not sure I would be able to compete in London. I had a serious back injury and had a spine operation just a couple of months before the Paralympics in Rio so I could not start there.
"This medal belongs to all the people who stayed with me during these hard times – my family, my friends, my coach. It means a lot to me and it is a very emotional moment today.
"I was very disappointed after three throws because I wasn't doing well but I was nervous because this is my first World Championships. I knew it was just about myself and I could do it with one big throw."
Latvia's former world champion and world record holder Aigars Apinis set a new European record 21.95m for silver while Croatia's Velimir Sandor (17.95m) won bronze.
Daniel Wagner claimed his first world title in the men's long jump T42, and the former gymnast was clearly delighted, celebrating with a back flip on the track.
The former world record holder, who won silver at Doha 2015 behind Japan's Atsushi Yamamoto, leapt a Championship record 6.50m in the third round to take the win ahead of Yamamoto, who leapt 6.44m in the final round. Germany's Leon Schaefer (6.25m) finished third.
"This is incredible. To get beaten for the 2015 title was so hard and it's a incredible release to win the gold medal here. I have often got my arse kicked by the older guys. But I've worked so hard to get my first world title," said Wagner.
China now sit top of the medals table with 11 gold, nine silver and six bronze; the US is second with 11 gold, eight silver and 10 bronze and hosts Great Britain are third with 11 gold, two silver and seven bronze.
The World Para Athletics Championships will run through to 23 July. More than 1,150 athletes from 90 countries are competing in 202 medal events.
For footage requests from London 2017, please e-mail alexis.vapaille@paralympic.org