Lomianki 2018: Storylines to follow
08.11.2018
Top dancers to keep an eye on at European Championships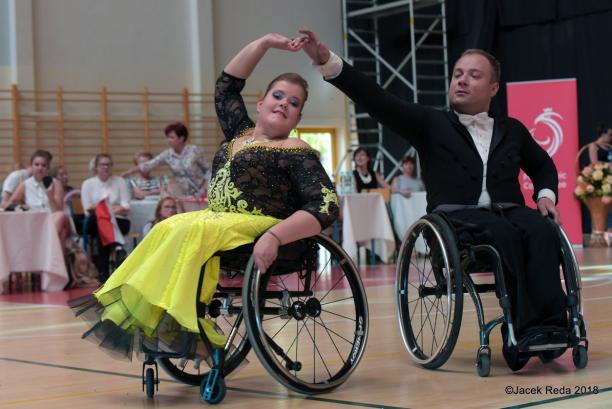 Poland's Joanna Reda and Pawel Karpinski will try to defend their duo Latin 2 title on home floor at the 2018 European Championships
© • Jacek Reda
By World Para Dance Sport
The 2018 World Para Dance Sport European Championships will be an action-packed three days of competition in Lomianki, Poland. From Friday (9 November), 95 athletes from 14 countries will compete across 19 medal events.
Here are the top storylines to follow:
Helena Kasicka going solo
The Slovakian's last major competition was two years ago at her home European Championships in Kosice. Together with her standing partner Peter Vidasic, the couple swept all three combi class 1 events (standard, freestyle and Latin). But Kasicka will have the dance floor to herself in Lomianki, with Vidasic coaching from the side. Watch for her in the women's freestyle 1.
Polish power couple
Joanna Reda and Pawel Karpinski will be the duo class 2 couple who can light up the venue.
They are the reigning European champions in the duo Latin and silver medallists in the duo standard. At the 2017 World Championships in Malle, Belgium, they captured bronze in both events. Golds went to Ukraine's Olena Chynka and Oleksandr Onishchenko, who are expected to put on golden performances.
Can Ukraine dazzle again?
The judges and audience can expect top-class performances from Ukrainian dancers. Double Malle 2018 world champion Chynka will compete in the women's singles standard and freestyle class 2. But Poland's Katarzyna Bloch, singles standard world bronze medallist, will hope to steal the show.
The women's singles standard 1 could see a Ukrainian dance off for the top spot. Reigning world champion Illona Slugovyna and world bronze medallist Snejana Kernichnaya are strong dancers.
World champion Ivan Sivak will have to dance his heart out as a determined Karpinski would also like a gold in the men's singles standard 1.
Belarus will bring it
The country is also a powerhouse in the sport.
Watch for world champions Hanna Harchakova and Roman Usmanov in the combi standard 2. Malle 2018 silver medallists Hanna Siratsiuk and Ihar Kuliashou are also an energetic couple who can follow the Latin rhythms in the combi 1 category.