Lomianki 2018: Helena Kasicka's golden comeback
10.11.2018
Slovakian wins title on Ukraine-dominated opening day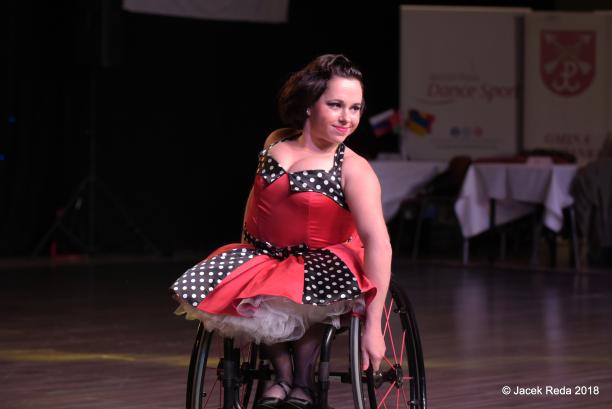 Helena Kasicka took gold at the 2018 European Championships, her first time competing in singles
© • Jacek Reda
By World Para Dance Sport
Before Helena Kasicka accepted her gold medal, the Slovakian went over to hug her coach in a memorable return to the spotlight at the 2018 World Para Dance Sport European Championships on Friday (9 November) in Lomianki, Poland.
Kasicka won the women's singles freestyle 1. Of her eight major gold medals (five European and three world titles), Friday's victory was her first in singles. Her former dance partner-turned-coach Peter Vidasic was filming the medal ceremony from the side before stepping into the dance floor briefly to receive Kasicka's hug.
"I was nervous because it was my first Championships without a partner," said Kasicka, who did not compete at the 2017 World Championships but admitted she is targeting the 2019 Worlds.
"I said to Helena this morning that I am so nervous, I feel like I'm in a competition"
Vidasic retired from dancing but wanted Kasicka to continue; they agreed on only the singles freestyle and it paid off.
"I said to Helena this morning that I am so nervous, I feel like I'm in a competition," Vidasic said. "I am very proud of her. She continued our work."
Israel's silver medallist Tomer Margalit displayed promising talent in her first full season. Ukraine's Snejana Kernichnaya rounded off the podium.
Ukrainian night
Opening night was otherwise blue and yellow, with Ukrainian dancers taking five of the seven gold medals on offer.
Olena Chynka won the judges' heart twice. Her Frida-inspired performance awarded her a second straight gold in the women's singles freestyle 2. Austria's Sanja Vukasinovic captured silver, and Belgium's Sofie Cox came in third.
"My coach suggested me to dance to Frida's (famous Mexican artist) personality and I started to read about her," Chynka said. "And the more I read about her, the more I found connections between us. When you are in a hard situation and something goes wrong, you have to be strong and look forward. I think this also influenced my dance impersonation.
"For me, dancing is my life, and this is the main motivation for me."
Duo freestyle events were contested for the first time at a European Championships, with the class 2 category being a close affair.
Chynka teamed up with Oleksandr Onishchenko to hold off silver medallists Vukasinovic and Robert Pleininger. The Austrian's scored higher on choreography presentation and tied on difficultly level. But Ukraine's technical skill was too much to match. Israel's Maytal Wax and Shlomo Dahan were third.
Slim margins also separated the gold and silver medallists in the combi freestyle 1. Ukraine's Veronika Pedchenko and Valeriy Bevzyuk captured the title. A Bollywood performance by Israel's silver medallists Vital Zinger and Sean Ziv got the judges and audience grooving along. But perfection was needed to top the Ukrainians. Finland's Tuuli Harju and Timo Pyykkonen came in third.
"We heard the judges and the audience with us in the performance, and they enjoyed it as much as we did in the dance, and we hoped for the best," Zinger said.
Onishchenko had his breakthrough at the 2016 Europeans, and he has only come back stronger. With standing partner Svitlana Onopa, the couple displayed a mix of elegance and entertainment to win the combi freestyle 2. Slovakia's Maria Dutkova and Martin Solc won the silver; and their compatriots Maria Gazdikova and Maros Olejar joined with bronze.
Illona Slugovyna and Bevzyuk were the judges' clear favourites to become the first European champions in the duo freestyle 1. Slovenia's Nastija Fijolic and Amir Alibabic were second, followed by Ukraine's Kernichnaya and Vladimir Kernichny.
Turkish debut delight
Abdul Kadir Unal gave Turkey more reason to celebrate in the country's first European Championships. Unal won the men's singles freestyle 1, followed by Alibabic. Turkey's Osman Ertoz rounded off the podium.
Competition continues on Saturday (10 November) with six medal events: combi Latin 1 and 2; duo Latin 1 and 2; and women's singles standard 1 and 2.
Lomianki 2018 is being live streamed on World Para Dance Sport's website and Facebook page. You can also follow the results on Instagram and Twitter.