Lima 2019: Acceleration in progress needed say APC
04.05.2018
The Parapan American Games has the potential to transform Peruvian society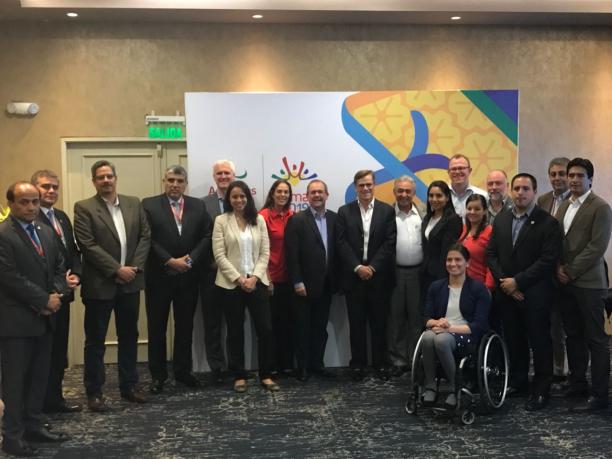 Sixth Lima 2019 Co-ordination Commission
© • Lucha Villar
By APC
With just over 470 days to go until the Lima 2019 Parapan American Games, the Americas Paralympic Committee (APC) has said the Organising Committee needs to speed up its progress in a number of key areas in order for the event to realise its full potential.
The APC led by its interim President Eduardo Montenegro, together with a delegation from the International Paralympic Committee (IPC), were in the Peruvian capital this week (3-4 May) for the sixth Co-ordination Commission. During two days of meetings, the Lima 2019 Organising Committee provided updates on various functional areas relating to the Games that will take place between 23 August and 1 September, attracting around 1,890 athletes who will compete in 17 sports.
Speaking on the last day of the Co-ordination Commission, IPC Chief Executive Officer, Xavier Gonzalez, said: "After two days of meetings with the Lima 2019 Organising Committee, we are generally happy with preparations but need to see rapid progress in a number of key areas ahead of our next visit in October.
"By staging this event Lima 2019 is aspiring to make Peru a better country for all; a successful Parapan American Games that realises its full potential can play a significant role in the Organising Committee achieving its aim.
"There has been a lot of good progress in terms of infrastructure projects. The Athlete Village will provide an excellent legacy to the city of Lima by setting a new standard for accessible housing in Peru.
"There is still a lot to be done with 15 months to go but we are confident in Lima 2019's ability to deliver a memorable event that will change the way people with an impairment are perceived in Peru. There is a real sense of enthusiasm from everyone involved in the Lima 2019 project about maximising this unique opportunity to change Peru for the better."
Lima 2019 President Carlos Neuhaus said: "It has been a pleasure to welcome the APC and IPC Co-ordination Commission back to Lima. We are encouraged by their feedback and will carefully analyse all of their recommendations.
"In the entire history of Peru, there has never been a platform for promoting awareness and integration of people with an impairment like the Parapan American Games. It is a responsibility and an opportunity we take extremely seriously, and we are determined to create the best possible stage for the athletes of the Parapan American Games to shine. That 16 of the 17 Parapan American Games sports will be Tokyo 2020 qualifiers is testament to the quality of the venues we are delivering."
On Monday (7 May) representatives from 17 National Paralympic Committees will take part in two days of meetings and site visits with the Lima 2019 Parapan American Games Organising Committee.