Laureus 2019: McKeever's Monaco mission
15.02.2019
Para Nordic stars nominated for prestigious award ahead of Worlds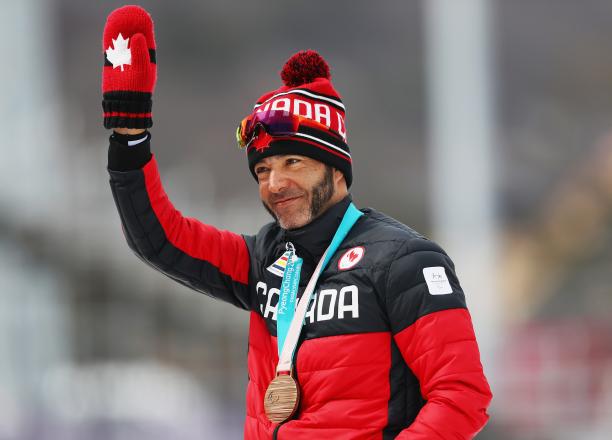 Brian McKeever is the most decorated cross-country skier in Paralympic history
© • Getty Images
By Teddy Katz | For World Para Nordic Skiing
One of the Paralympics' top stars, Brian McKeever, will miss his first race at the World Para Nordic Skiing Championships in Prince George, Canada, this Saturday, but he has an excellent reason. The most decorated cross-country skier in Paralympic history will instead be in Monaco, where he is nominated at the Laureus Awards for Sportsperson of the Year with a Disability.
For the 39-year-old to be on stage with the biggest names in sport is "a career highlight".
"If you literally believe in something and want something, you work for it every single day, it can happen. It's not about what you're missing. It's from your heart and your mind. Your limitations are in your mind."
"To have a Paralympic component of that [Laureus] shows they see the Paralympic Games as being at that high level," McKeever says.
"That's what we're constantly fighting for to be seen as equal."
At the 2018 Winter Paralympics in PyeongChang, South Korea, McKeever won three titles to make it an incredible 17 Paralympic medals including 13 golds spanning five Games.
Joining McKeever as Laureus nominees are wheelchair tennis star Diede de Groot, boccia world champion Greg Polychronidis, men's long jump world recordholder Markus Rehm, Paralympic alpine champion Henrieta Farkasova and fellow Nordic skier Oksana Masters.
From Chernobyl to Laureus nominee
Masters calls it "jaw-dropping" to be up for the award on a night celebrating legends including LeBron James, Tiger Woods, and gymnastics star Simone Biles.
"These people are like excuse my French, 'bad asses' who've achieved so much."
Yet Masters' improbable rise to the top in her sport is like a Hollywood movie.
Masters was born in Ukraine three years after the Chernobyl nuclear disaster with birth defects.
Her parents put her up for adoption. She spent seven years in an orphanage, malnourished and starving to death.
"I had one dream - to have a mum. It's amazing because that's what I now have – a single parent adopted me and saved my life."
Her adopted mother brought her to live in the US. She encouraged Masters to try sports like adaptive rowing.
"The summer of 2013 it all changed for me," Masters says. "I realized how much I needed sport in my life. Sports kind of turned into…it was a healing mechanism."
Masters says the orphanage left deep scars and memories she hadn't come to terms with.
"I didn't like to vocalise things that I'd experienced. The best way for me to release it was on the water, in the oars. I would pull as hard as I could to let out all of my frustration, anger and fear -- everything I had built up inside me and it was gone through that sport."
McKeever's dreams are shattered
Brian and his brother Robin dreamed of being Olympians.
While Robin got there in 1998, around that time as a teenager, Brian was diagnosed with Stargardt disease, which led to the loss of his central vision.
"That was a tough period for me. In starting to lose [my] eyesight and knowing it was going that route and thinking maybe my career was over before it had even started."
But when US Paralympian Marla Runyan became the first legally blind athlete to compete in the 2000 Olympics, finishing 8th in the 1,500m, McKeever realised his dream was not over.
"It was my first exposure to see what was possible. I thought if I worked hard, certainly it wasn't limiting Marla."
By the time the Vancouver Olympics rolled around in 2010, he was attempting to become the first athlete to compete in both the Olympics and Paralympics in the same year.
Painful setback
But despite qualifying for the Canadian Olympic team, the coaches selected his teammates over him for the Games.
"I nailed the races when I had to in order to get there. It wasn't like I lost the spot. It was taken away from me."
He cried when he got the news.
"For me it wasn't just about going. I didn't want to be a tourist. I'm not chasing a jacket. I'm not chasing a plane ticket to the games. I was chasing a result."
Masters defies the odds
After switching from rowing to Nordic skiing, Masters showed her resiliency in PyeongChang last year, winning two Paralympic gold medals despite dislocating her elbow two weeks before.
"Oh my god. It hurt so bad. It felt like someone had a chain saw going back and forth on your hand every time your pole planted really hard."
But nothing was going to stop her.
"I was not going to let this little thing get in the way – I'm thinking I'm already missing two legs what's another arm."
"I never had someone to look up to when I was going through my amputation. I thought my life was over. And I want to be that example for just one girl or one boy."
Role model
Masters says it "feels like a dream".
"Regardless of where you come from – whether you came from an orphanage or the wealthiest family in the world, those are just characteristics of you."
She says people have more power than they think.
"If you literally believe in something and want something, you work for it every single day, it can happen. It's not about what you're missing. It's from your heart and your mind. Your limitations are in your mind."