Kunieda, de Groot, Alcott win Australian Open
28.01.2018
Japanese star makes it 40 career Grand Slam titles at Melbourne Park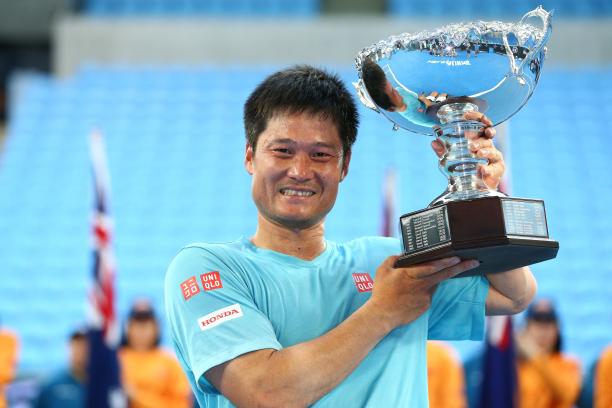 Shingo Kunieda lifts the trophy after winning the 2018 Australian Open in Melbourne
© • Getty Images
By Sandra Harwitt | For the ITF
Shingo Kunieda, Diede de Groot and Dylan Alcott took the men's, women's and quad singles titles on the final day of the Australian Open as the first Grand Slam of the year drew to a close.
Alcott made it four fabulous consecutive years winning the Australian Open quad singles trophy when he defeated top-seeded David Wagner of USA 7-6(1) 6-1 on Saturday (27 January) to keep the trophy at home in Melbourne.
The match was played on Rod Laver Arena, where local fans let Alcott know they were on hand, en masse, to cheer him on. In fact, Alcott played his last two matches on RLA, the first on Friday night under the lights.
"Feeling awesome," Alcott said. "Four in a row. Pretty good start. It's been a big two weeks, really. Crazy two weeks. I was pretty glad I could top it off with a win. David played really well. In particular in the first set it was pretty close.
"The support of Australia and the media and the press, it's just been, it's like becoming normal now, the coverage, which is what I always wanted," he added, pointing out how wheelchair tennis has grown.
Alcott's taken on the responsibility of creating a high profile for disabled people. A Paralympic gold medalist in tennis and basketball in the past, he's become a bonafide Australian celebrity.
"I do love this trophy," he said, admiring it on the table next to him. "It's beautiful. It's just been, a whirlwind five, six years. A lot of hard work. But the best decision I ever made was coming back to tennis. I love playing basketball, but it's changed my life.
"Now I think it's starting to change the lives of some other people, as well," he added. "That's what I've always wanted to do, get people out of their homes and playing sport, being comfortable with their disabilities and things like that. Sports is a great medium to do that, I think. So many kids with disabilities were there today, in the stands. It was packed. It's so cool."
In lifetime meetings against Wagner, Alcott now leads 23-13, although he lost their first encounter here at Melbourne Park in 2014.
On three of his four victories here, Alcott had to bypass Wagner to win the trophy. In 2015, he defeated Wagner, the then two-time defending champion, 6-2 6-3 to win the Australian Open for the first time. In 2016, he repeated with a 6-2 6-2 win over Wagner. In last year's final, Alcott posted a 6-2 6-2 win over Briton Andrew Lapthorne.
In Saturday's final, the winners stats for both players were impressively high. Alcott posted 46 winners in the 1 hour, 30 minute match, while Wagner put up 31 during the encounter. The unforced error count was on the low side with Alcott making 10 and Wagner 17.
In the first set, play stayed on track until Alcott broke serve in the ninth game and Wagner countered by breaking right back in the tenth game. It was the tiebreaker that set the two apart as Wagner held his serve on the first point and never won another point in the set.
At 1-1, Wagner surrendered his serve in the third game of the second set, which set Alcott's course to victory.
De Groot claims first Australian Open crown
In women's wheelchair action, second-seeded Diede de Groot picked up her second career Grand Slam title with a 7-6(6) 6-4 win over top-seeded and defending champion Yui Kamiji of Japan.
"It's just amazing to be here for the second time and to perform this well," de Groot said.
"Yui, for sure, she's a great player, and she's No. 1 in the world right now. That's not just for nothing. She's playing really well. I think it just – it means a lot to just defeat the world No. 1 and win a Grand Slam title with it."
De Groot, playing in her first final at the Australian Open, won her first Grand Slam singles trophy at Wimbledon last year.
"To win Wimbledon, that's just – it was amazing, and, yeah, it was something that I just hadn't expected yet last year," de Groot said. "So that just really gave me the confidence that I could actually do it, and that's really good."
In contrast, Kamiji was in the hunt for a sixth Grand Slam title, but wasn't able to counter de Groot during Saturday's one hour, 42 minute outing.
Kamiji came into the final with an 11-4 winning record over de Groot, and had won six of their eight previous final meetings.
There were 15 break points in the offing during the final and thirteen games ended with service breaks.
Kunieda makes it nine Australian Open titles
Frenchman Stephane Houdet was close to winning his first title at Melbourne Park, even having match points, but in the end it was Shingo Kunieda who won his ninth Australian Open title.
Houdet had three match points when Kunieda was serving in the third set – one at 2-5 and two at 4-5 – but couldn't pick up his first Australian Open trophy, instead surrendering 4-6 6-1 7-6(3).
"Very long time to get this trophy," Kunieda said. "It was three years ago I won here, but I've come back from injury. The next time (next Grand Slam) is the French Open (Roland Garros) and please support wheelchair tennis."
Later on in the press conference, Kunieda repeated how important this win is to him, saying, "It is the happiest one this time because I was absent because of injury, so it was tough to come back, to get this trophy, yeah."
The two had played in the final here five times in the past – in 2009, 10, 11, 13, and 15 – and Kunieda was always the champion.
Houdet suggested he might finally be on course to win his first Australian Open crown when the world No. 3 earned the first break of the final set to lead 3-1. He fired a backhand down the centre of the court to bring the next game to a close, despite Kunieda's protestation that the ball had landed on the wrong side of the baseline.
On his first match point at 5-2 Houdet misfired with a backhand that landed wide of its target and Kunieda finally held serve before breaking that of his long-time rival. Another two match points came and went for Houdet before Kunieda levelled the set at 5-5 after a game featuring five deuces.
Having been 3-1 down early in thecider Kunieds opened up a 3-1 lead in the tiebreak and, at 6-3, on his first match point, he forced the error from Houdet's racket that brought the seven-time ITF World Champion his 40th career Grand Slam title in singles and doubles.
Kunieda, who now leads Houdet 41-12 in career meetings, won his first Australian Open trophy since 2015 and his first Grand Slam singles title since beating Houdet in the 2015 US Open final.
"It was very nice to play on this court with the crowd," said Houdet, of playing on Margaret Court Arena as memorable day came to a close with all three wheelchair finals having been played on two of the Australian Open's show courts.