Korea Making History on Ice in Hamar
30.03.2012
Korea has shocked spectators at the 2012 IPC Ice Sledge Hockey World Championships, beating the Czech Republic to advance to the gold-medal game against USA.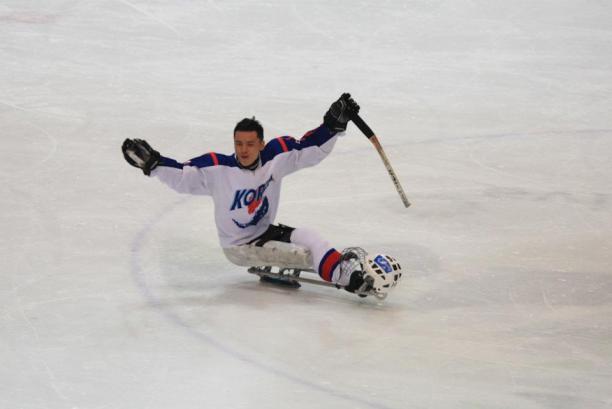 Korea gave a surprising performance at the 2012 IPC Ice Sledge Hockey World Championships in Hamar, Norway.
© • Anita Hector
By IPC
"We're just so excited. We have two days of rest and then we could make another big step as the world champions."
Editor's Note: This story is Part 1 of 2 previewing the squads that will take part in the 2012 IPC Ice Sledge Hockey World Championship finals on Sunday (1 April).
Korea's Ice Sledge Hockey team has never won a medal at the World Championships or the Paralympic Games.
That drought is now guaranteed to come to an end.
This season's squad has taken the programme to new heights, qualifying for the gold-medal game against USA on Sunday (1 April) at the International Paralympic Committee (IPC) Ice Sledge Hockey World Championships in Hamar, Norway.
Following Korea's 2-0 win against the Czech Republic in the semi-finals, team captain Jong Kyung Lee took a couple of minutes to just sit on the ice, smile and take it all in.
"I feel so happy," he said. "We had all those training sessions back in Korea to build a strong team, and so we are like brothers and a family. That's a big reason why we've come so far here in Hamar."
Korea's second-year head coach, Gea Jun Park, stressed that the most important thing at the Championships has been for his players to trust each other on the ice, as well as their coaching staff.
Teamwork is the pinnacle of success in Korea.
In Korea's first World Championships appearance in 2009 in Ostrava, Czech Republic, it finished in seventh place. It then did one better at the Vancouver 2010 Paralympic Winter Games, taking sixth place ahead of Italy and Sweden.
Now, with Pyeongchang hosting the 2018 Games, Korea is doing everything it can to assemble an elite team on the ice before then.
In four games in Hamar, the players have come together to outscore their opponents 10-3 and compile a 3-1 record, losing only to Canada in their second round-robin contest. The team even shocked hosts Norway on the opening day, defeating the home squad 4-1.
Kyung Lee is tied with Canada's Billy Bridges on the scoring leaders table at the Championships with five points – two goals and three assists. Seung Hwan Jung has been a nice asset to the team, finding the net three times.
Man Gyun Yu has 40 saves in goal at the event and a 93.0 save percentage – just second to USA's Steve Cash by half a percentage point.
The last time Korea faced USA, it lost 5-0 in the preliminary round at the Vancouver 2010 Games.
But this year's Korean squad has come a long way since then, and it is not ready to put the brakes on its current swing of momentum just yet.
"We're just so excited," Park said. "We have two days of rest and then we could make another big step as the world champions."