Judo season kicks off in Azerbaijan
13.05.2019
Double Paralympic champion Ilham Zakiyev leads hosts in Baku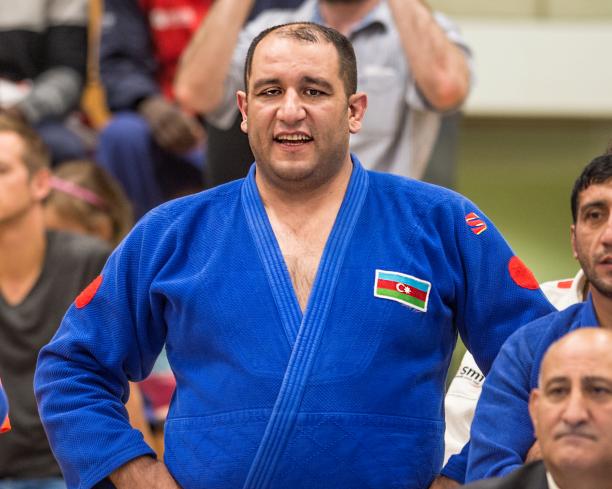 Ilham Zakiyev heads the home team contesting the Baku Grand Prix
© • Getty Images
By IBSA
More than 240 judokas from 36 countries are in Baku for the season-opening International Blind Sports Federation (IBSA) Judo Grand Prix which gets underway on Monday.
Headlining the team for hosts Azerbaijan is national hero Ilham Zakiyev.
The double Paralympic champion in the men's over 100kg from Athens 2004 and Beijing 2008 proved that he is still a podium contender at the World Championships in Odivelas, Portugal, in late 2018.
Claiming his latest major international medal with bronze, Zakiyev now wants to impress at the first competition of its kind to hit his country.
"I know that all our fans and supporters in Azerbaijan will be behind us, and we will do our very best to make them proud. I would love our flag to be flying above all others at this competition."
Trying to stand in Zakiyev's way will be Iran's new world champion Mohammadreza Kheirollahzadeh.
World and Paralympic champions in attendance
With the Grand Prix offering points towards qualification for the Tokyo 2020 Paralympics, a host of other top judokas will compete.
Uzbekistan's Feruz Sayidov picked-up a world title on his debut in the men's up to 73kg in Odivelas.
Sayidov will return to the mat once again to face the likes of Paralympic champion Ramil Gasimov, who won bronze at the Worlds. This time, however, Gasimov will have the home crowd behind him.
In the women's up to 48kg, France's up to 52kg Paralympic title holder Sandrine Martinet will be back with a vengeance.
Martinet had to settle for bronze in Odivelas after being knocked out by South Korea's eventual champion Soohee Choi. However, Choi has not made the journey to Baku, leaving Martinet and Azerbaijan's Worlds silver medallist Shahana Hajiyeva as the top contenders.
"I have been training twice a day to prepare for the Grand Prix," said Hajiyeva, who at 18 is her country's youngest Para judoka. "It is a very tiring regime, but it is my job and I love it."
Success for Hajiyeva in Baku will also be an important step towards Tokyo 2020: "I am currently in ninth place in the world rankings. It is enough to qualify for Tokyo 2020, but I want to get a higher place in the ranking."
Azerbaijan's Bayram Mustafayev, Ukrainian teammates Inna Cherniak and Oleksandr Nazarenko, Turkey's Zeynep Celik, Brazil's Alana Martins, China's Hongyu Wang and Kazakhstan's Olzhas Orazalyuly are the other world title holders who will compete.
The Baku 2019 IBSA Judo Grand Prix runs from 13-14 May at the Heydar Aliyev Sports Complex. It is part of a series of four Grand Prix taking place in 2019-2020.
As well as offering qualification for Tokyo 2020, the competition is also an important part of the build-up to regional Championships taking place this year. It is the first to be held as part of a Memorandum of Understanding with the International Judo Federation (IJF) to help develop the sport.
The IJF will be providing a live broadcast at IBSA Judo's Facebook page and IBSA's YouTube channel.
The European Championships will take place in Genova, Italy, from 26-28 July.