Join the Sochi 2014 '100 days to go' Google hangout
25.11.2013
Find out how you can interact with Dutch snowboarder Bibian Mentel, Italian ice sledge hockey player Florian Planker and American cross-country skier Tatyana McFadden.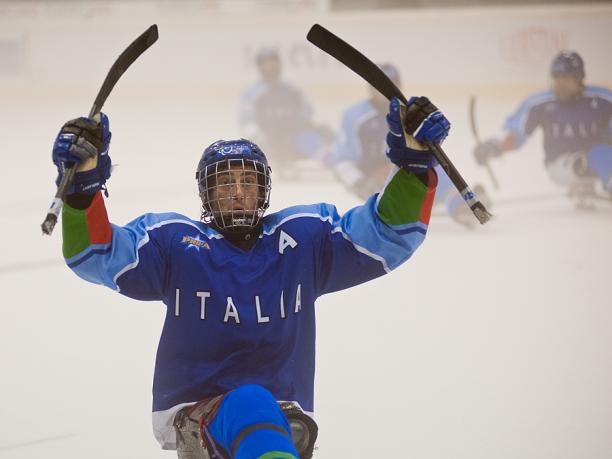 Florian Planker was the leading scorer for Italy at the IPC Ice Sledge Hockey Qualification Tournament on their home ice in Torino.
© • Luc Percival
By IPC
The Google hangout will allow fans to watch the interview live and join in the conversation by posting their questions with the Q&A app to the three athletes below at http://bit.ly/SochiSeries.
To mark 100 days to go until the Sochi 2014 Paralympic Winter Games on Wednesday (27 November), the International Paralympic Committee (IPC) will host a Google hangout at 17:00 (CET) with some of the top athletes expected to be there.
American sitting volleyball player Katie Holloway, a London 2012 silver medallist, will moderate the hangout, which can be viewed on the IPC's Google+ page, YouTube channel and Paralympic.org.
The Google hangout will allow fans to watch the interview live and join in the conversation by posting their questions with the Q&A app to the three athletes below at http://bit.ly/SochiSeries.
Bibian Mentel
This Dutch snowboarder has been setting the standard for her sport since 2002, and it will take something special from the rest of the women's field to stop her continuing her winning ways in the 2013-14 season.
The 40-year-old was a six-time Dutch champion in half-pipe and snowboard cross events and on her way to qualifying for the Salt Lake 2002 Olympic Winter Games before she lost her lower right leg to cancer. Four months after her operation she was back riding and within the year she was again a Dutch national champion.
Mentel is a multiple world champion and sent a firm message of intent to her rivals ahead of Sochi 2014 when she won the women's race at the IPC Alpine Skiing Snowboard Cross Test Event in March with a time that would have earned her a silver medal in the men's race.
Mentel has also started her own foundation, the Mentelity Foundation, which focuses on motivating, activating and facilitating children with disabilities through board sports (wakeboarding, snowboarding and skateboarding).
Florian Planker
The Italian ice sledge hockey team's veteran forward will be entering his fifth Paralympics in Sochi, and he's no stranger to adversity.
Planker overcame a motorcycle accident at age 17 that resulted in the amputation of his left leg above the knee. But that didn't stop him from becoming involved in elite sport.
He represented Italy in alpine skiing at three editions of the Paralympic Winter Games from 1998-2006, with his best result, a bronze medal, coming in the super-G competition at the Salt Lake City 2002 Games.
The now-36-year-old, who holds an accounting degree, switched over to ice sledge hockey when his team qualified for the Paralympics for the first time in 2006, as Torino hosted the Games.
With five years of experience in standing hockey prior to his accident, Planker had already mastered how to read the game on the ice, knowing exactly when to pass or shoot the puck.
He's been the team's anchor and go-to scorer ever since, leading them to a European title in 2011 and sixth-place finishes at the last two World Championships.
Planker was the leading scorer for Italy at both of those World Championships, and most recently, he led all players at the 2013 IPC Ice Sledge Hockey Qualification Tournament with eight goals – four of them game-winners – and five assists. Italy won silver there to qualify for Sochi 2014.
Born with spina bifida in St Petersburg, Russia, McFadden was an unwanted child and was sent to an orphanage, where without a wheelchair, she was left to walk using her hands for the next six years.
In 1994, she was adopted by Debbie McFadden, who was working as the commissioner of disabilities for the USA's health department, moved to the USA and took up Paralympic sport to help regain her health.
Ten years after moving to the States, McFadden was representing her newly adopted country at the Athens 2004 Paralympic Games on the track. At just 15, she was the youngest member of the USA squad, but proved age was no barrier by winning a 100m silver medal and 200m bronze.
In Beijing, she came up against Canada's Chantal Petitclerc, an athlete in her prime and who was determined to bow out on a high at her final Paralympic Games. McFadden had to settle for three silvers and a bronze.
In London, at her third Games she finally won Paralympic gold not once, but three times. She was top of the podium in the 400m, 800m, and 1,500m.
This past year has been a historic one for McFadden, as she won gold in all six of her events at the 2013 IPC Athletics World Championships. In addition, she made history by becoming the first racer to win the marathon Grand Slam, winning the marathons in Boston, London, New York and Chicago all in the same season.
Now, she's switched over to cross-country skiing in an effort to return to her country of birth and compete in her first winter Paralympics.