Italy, South Korea on verge of advancing to Sochi
24.10.2013
Germany and Great Britain both lost their first three games at the IPC Ice Sledge Hockey Qualification Tournament, putting a damper on their Sochi 2014 hopes.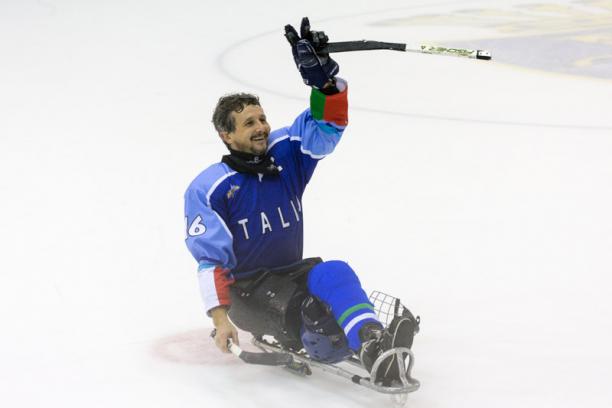 Former Italian Para ice hockey captain Andrea Chiarotti has died
© • Marco Ciccolella
By IPC
"We can take a very deep breath now after winning three games."
Italy and South Korea remain undefeated with three wins apiece after the third day of the IPC Ice Sledge Hockey Qualification Tournament in Torino, Italy, as both are on the verge of advancing to the Sochi 2014 Paralympic Winter Games with nine points each in the tournament standings.
Sweden have six points and Japan have three points, and as Germany and Great Britain have no points and three losses each, both teams must do a lot now in order to qualify now for Sochi 2014.
In Wednesday's (23 October) first game, Italy beat Germany 4-0 to remain undefeated on their home ice, as Florian Planker scored two goals and Gianluigi Rosa anchored the defence.
After a scoreless opening period, Planker, who now leads all scorers in Torino, netted the puck twice in the second period to give the Italians a lead they would never relinquish.
Captain Andrea Chiarotti scored on a power play off an assist from Planker just 3:06 into the final period, and then Greg Leperdi padded the home team's lead with just a few minutes remaining in the game.
"We can take a very deep breath now after winning three games," a relieved Chiarotti said.
Between the posts, Italy's Santino Stillitano saved all 15 shots that came his way, while Germany's Lars Uhlemann recorded 16 saves. Gianluigi Rosa was yet again a force to be reckoned with on defence for the Italians.
"Of these three games, the last game was the hardest game," Rosa said.
"When you are in the locker room, you expect to play every game really well, though when you're on the ice it's a different story. But this time it was possible for us to win all three games and get nine points toward Sochi."
South Korea were victorious over Sweden to remain unbeaten as well, winning their game 4-2.
The South Koreans took an early 3-0 lead in the first period, with goals from Yung-Jae Cho at the five-minute mark and then Byeong-Seok Cho at the 12:44 mark and Jong-Ho Jang at the 14:40 mark.
Per Kasperi then found the net for Sweden on a power play at the 4:08 mark in the second period to close the gap to 3-1.
Sweden's Niklas Rakos and South Korea's Seung-Hwan Jung both scored in the final period, as South Korea went on to take their third straight victory.
Japan, meanwhile, picked up their first win of the tournament to keep their Sochi 2014 hopes alive, defeating Great Britain, 8-2.
Kazuhiro Takahashi scored twice – once on a power play – for Japan, while Wataru Horie also netted two scores. Mikio Annaka, Daisuke Uehara, Eiji Misawa and Masaharu Kumagai scored the other goals for the winning team.
Despite a third straight loss, Great Britain put their first points of the tournament on the scoreboard, with Gary Farmer and Matthew Clarkson both getting shots past the posts in the second period.
Mitsuru Nagase had three saves in the net for Japan, with Bryan Hackworth stopping 19 shots for Great Britain.
All teams will have the day off on Thursday (24 October) before getting back to the ice on Friday (25 October), starting with Germany against Japan at 10:00 local time. That game will be followed by South Korea against Great Britain at 13:30 and Italy against Sweden at 17:00.
Teams in the tournament earn three points for a win, two for an overtime or shoot-out win, one for an overtime or shoot-out loss and no points for a loss.
The top three finishers from the tournament will qualify for the Sochi 2014 Paralympic Winter Games, where they will join Canada, USA, Russia, Czech Republic and Norway.
For more information on the IPC Ice Sledge Hockey Qualification Tournament, please visit the event website.
All games will be streamed live on the event website, and you can also follow the action on Facebook and on Twitter.