Invictus Games: Paralympians who did the crossover
20.10.2018
Check out four of the most renowned athletes who shone in both events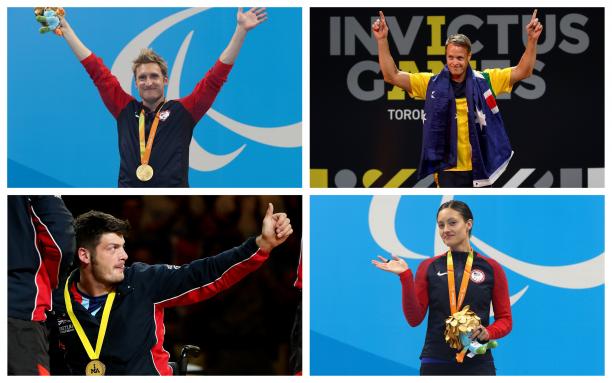 (clockwise from top left) Snyder, McGrath, Marks and Henson have all competed at both the Paralympics and the Invictus Games
© • Getty Images
By IPC
With the fourth Invictus Games beginning in Sydney, Australia, today (20 October), check out four Paralympic medallists who also competed at the international multi-sport event for wounded, injured or sick war veterans created by Great Britain's Prince Harry.
Brad Snyder (USA)
The USA's five-time Paralympic swimming champion was blinded in 2011 when he stepped on an improvised explosive device while serving in the US Navy in Kandahar, Afghanistan. He went on to win multiple Paralympic and world titles. Snyder also competed in both swimming and athletics at the 2017 Invictus Games in Toronto, Canada.
Curtis McGrath (Australia)
In 2013, then 24-year-old McGrath was in Afghanistan as part of the Australian Army when he stepped on a homemade landline, losing both his legs as a result. It was in that grim moment that he joked with those helping him about becoming a Paralympian. In 2014, he competed in swimming and archery at the London Invictus Games. Two years later, he claimed canoe Paralympic gold at Rio 2016.
Dave Henson (Great Britain)
"I remember I was on the floor and managed to get myself seated. I looked down and saw my legs were in pieces – skin and muscle hanging off and bones poking out." Henson was with the British Army in Afghanistan in 2011 when he stood on an improvised explosive device, losing his legs as a result. Three years later, he captained the British team at the inaugural Invictus Games and, in 2016, won Paralympic athletics bronze.
Elizabeth Marks (USA)
She joined the US Army in 2008 and, three years later, sustained injuries to both hips while on assignment in Iraq. An illness in 2012 resulted in a further reduction in the mobility of her legs and decreased lung capacity. Marks took up swimming and, in 2016, won four golds at the Invictus Games in Orlando, USA. That same year, she took her first Paralympic title in Rio.