Indonesia 2018: Spotlight on wheelchair fencing
02.10.2018
Paralympic medallists will battle on the piste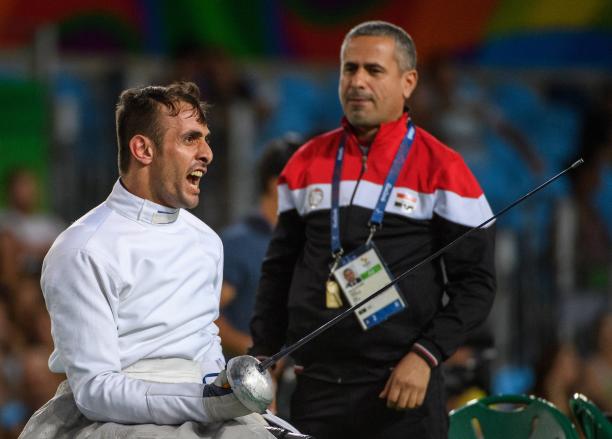 Ammar Ali IRQ in the Men's Individual Epee - Category B Semi-final Wheelchair Fencing in the Carioca Arena 3.
© • Olympic Information Services OIS.
By Indonesia 2018
One of the growing sports on the continent of Asia, wheelchair fencing will take place over five days of competition during the Asian Para Games 2018 in Jakarta, Indonesia, this October.
While China is expected to dominate most of the competition, Hong Kong, Iraq and Thailand's fencers will all be keen to ensure China does not have it all their own way.
An all-Chinese faceoff is expected between multiple-time Paralympic champions Sun Gang and Tian Jianquan in the men's epee, foil and sabre category A events. Meanwhile Iraq's Ammar Ali, a silver medallist at Rio 2016, will be ready to spoil China's run in the category B events. Hu Daoling and Feng Yanke will be the top Chinese medal prospects in the category.
The sabre A event will have the line-up of London Paralympics medal winners; Hong Kong's Chan Wing Kin, the third-place finisher at London 2012, will be eager to win a medal of a different colour this time around with China's Chen Yijun and Jianquan, the gold and silver medallists, also in the running.
In women's events, Zhou Jingjing and Zhou Xufeng, the Rio 2016 gold medallists, will lead the Chinese brigade in epee and foil category A competitions. But Yu Chui Yee, Hong Kong's biggest name in the sport with seven Paralympic titles, as well as Thailand's London 2012 gold medallist Jana Saysunee will be out to stop the Chinese dominating.
Eleven fencers will be representing the hosts Indonesia and will be eager to leave a mark in their home event.
Wheelchair fencing, which was introduced to the world at the 1960 Rome Paralympics, has been part of all three Asian Para Games. While it is more established in Europe, in Asia, the sport is gaining popularity, helped by the winning performances of fencers from China and Hong Kong in the past few years.
The Asian Para Games run from 6-13 October.