I'mPOSSIBLE takes step forward in Kazakhstan
09.02.2018
NPC hosts teacher training and round table with government about the education programme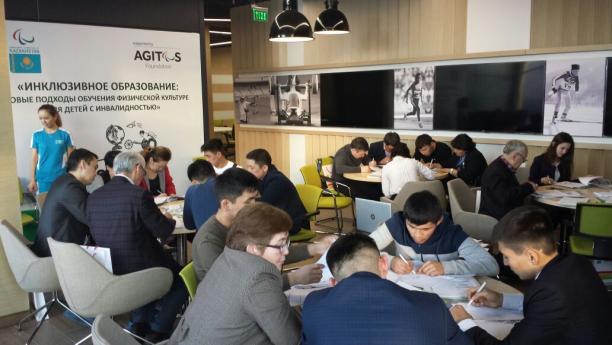 Teachers take part in I'mPOSSIBLE training at Kazakhstan's Paralympic training centre
© •
By Agitos Foundation
Kazakhstan took an important step forward to become one of the first countries to implement the I'mPOSSIBLE programme. From 7-8 February, the country's National Paralympic Committee (NPC) hosted round table with representatives from the government and a teacher training to advance the implementation of the Paralympic Movement's education programme.
Last year, NPC Kazakhstan applied for the Agitos Foundation's 2017 Grant Support Programme (GSP) as a way of funding the implementation of I'mPOSSIBLE in the country. The grant was used to translate to Russian the programme's first five units and teacher handbook – which will later be translated to Kazakh as well.
"The Paralympic Movement of Kazakhstan values each athlete with different age and impairments. Today's school children are our future proud Paralympians. It's our work to support them and provide assistance to find their path towards to Paralympic Games" said Kairat Boranbayev, President of NPC Kazakhstan.
On 7 February a roundtable was held to inform stakeholders about I'mPOSSIBLE and the Paralympic Movement and share best practices of implementation. The meeting had the presence of representatives of Kazakhstan's ministries of education, sport and culture, as well as NGO members and school directors.
The next day, 8 February, a teacher training took place for physical education teachers from schools across Astana in NPC Kazakhstan's newly built Paralympic Centre. During the training, teachers have learned about I'mPOSSIBLE and all of its resources, and the foundation of the Paralympic Movement.
The training was led by Miki Matheson, Paralympian and certified teacher in both Japan and Canada, as well as currently a Project Manager at the Nippon Foundation Paralympic Support Centre. Miki's commitment has been fundamental to the implementation of I'mPOSSIBLE in her home country, the first to pilot the programme earlier in 2017.
"It was great to see there is interest from all different stakeholders involved and I also found out that they have similar difficulties when it comes to trying to implement new programmes in their education system. I was happy to share our experiences and hopefully they will soon be able to implement it as well", said Miki.
Launched globally last December, I'mPOSSIBLE offers teaching resources, lessons plans, worksheets and inspirational videos to teachers and learners, targeting children aged between 6-8 years and 9-12 years. Its materials feature information on different Para sports and the inspirational achievements of Para athletes that showcase their abilities.