Hynd brothers take the spotlight
31.08.2012
British swimmers claim silver and bronze after mother, Helen, was a Paralympic Torchbearer.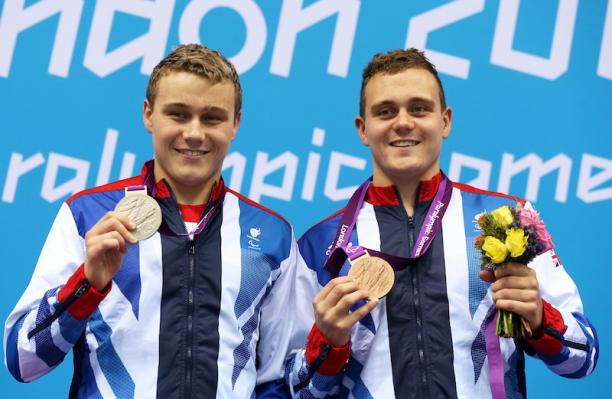 Great Britain's Oliver Hynd (left) and Sam Hynd (right) show off their London 2012 medals.
© • Getty
"I've got a silver medal. It's fantastic."
The second day of action in the Aquatic Centre at the London 2012 Paralympic Games started off with a spot of sibling rivalry as Great Britain brothers Oliver and Sam Hynd faced off in the 400m freestyle S8.
It wasn't to be a fight for gold though, as China's Yinan Wang ensured they would be racing for silver and bronze after a dramatic comeback over the final 100m. Younger brother Oliver held on to finish second while Sam, who won the event in Beijing, came third.
Silver medallist Oliver was over the moon with his performance, and paid tribute to Wang. "I set a PB, I've got a silver medal. It's fantastic.
"I didn't think he would go as fast as he did. I knew he would be faster than this morning, but he just came out of nowhere."
Meanwhile American Jessica Long made it two gold medals in two days in the second final of the evening, setting a new world record to win the women's 400m freestyle S8.
"I set my goals very, very high," said Long. "I feel like I'm always competing against myself and setting new goals for everyone. Records are made to be broken."
Long certainly looked up for it, winning the race by an incredible 18 seconds from Great Britain's Heather Frederiksen who won silver with Australian Maddison Elliott, just 13-years-old, winning bronze.
Continuing the record-breaking trend from day one (Thursday 31 August) in the pool, a staggering further seven world record times were set. China dominated the men's 50m butterfly S7 with Shiyun Pan breaking the world record and winning gold in a time of 29.49 and Jingang Wang winning bronze. Ukrainian Yevheniy Bohodayko was sandwiched in between winning silver.
After winning gold, Pan was delighted. "I have made my dream come true," he said. "Thanks London, and thanks to the wonderful crowd."
Brazilian Andre Brasil set a new record time in the 50m freestyle S10 while Ashley Mortimer beat Sophie Pascoe into silver with a best ever time of 28.10 in the women's equivalent.
Italian Cecilia Camellini knocked more than a second off the world record time in the 100m freestyle S11, winning gold in 1:07.29 and Dutch ace Marc Evers set a new benchmark in the 100m backstroke S14 to win gold.
Not to be outdone, Ukranian Natalia Prologaieva got in on the action and shaved 0.15 seconds off Beatrice Hess' 12-year-old 200m individual medley SM5 world record.
Natalie du Toit couldn't follow up her gold in the 100m butterfly S9 as she finished fourth in the 100m backstroke S9 behind Australian Ellie Cole in first, Great Britain's Stephanie Millward in second and USA's Elizabeth Stone in third.
Matthew Cowdrey added to his medal haul with a Paralympic record gold in the 100m backstroke S9 with Great Britain's James Crisp winning silver while Jacqueline Freney won gold in the 50m butterfly S7.
Elsewhere, there were golds for American Bradley Snyder in the 100m freestyle S11, a Paralympic record for Belarus' Ihar Boki as he won the men's 100m butterfly S134, Ukraine's Eskender Mustafaiev in the men's 50 freestyle S4 and Ireland's Bethany Firth in the women's 100m backstroke S14.