Happy New Paralympic Year!
01.01.2018
The PyeongChang Paralympic Winter Games are almost here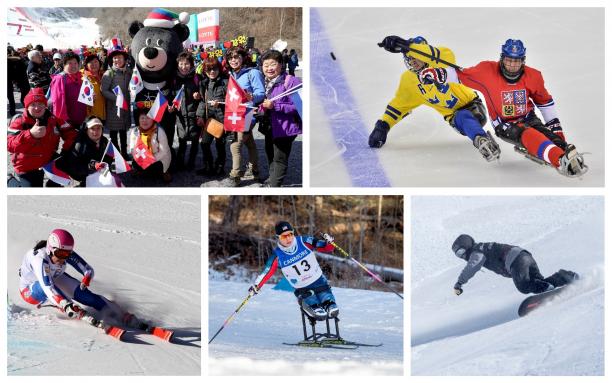 © •
By IPC
It is 2018 and that means one thing: The Winter Paralympics are nearly upon us. The world's best winter sports Para athletes will descend on South Korea in just over two months' time to contest the pinnacle of a Paralympian's career.
As we once again officially enter a Paralympic year, here is all you need to know about the 12th edition of the Winter Games.
Facts and figures
The Games will take place in PyeongChang, South Korea from 9-18 March, featuring up to 670 athletes competing in 80 medal events across six sports; alpine skiing, biathlon, cross-country skiing, Para ice hockey, snowboard and wheelchair curling.
The official medal designs have been revealed, and we have had our first glimpse of the athlete accommodation.
From next week (8 January) paralympic.org will launch the PyeongChang 2018 Sport Weeks. Each week there will be an in-depth look at each winter sport, from its history to its rules, and from classification to the key head-to-heads.
Who to look out for
The International Paralympic Committee (IPC) has compiled lists of the top athletes in every winter Para sport. Follow the links to check out the big names in alpine skiing, Nordic skiing, Para ice hockey, snowboard and wheelchair curling.
The Ones to Watch are not the only ones to keep an eye on as we close in on the Games. World Cups in alpine and Nordic skiing take place in January, followed by the snowboard World Cup Finals at the start of February. The World Cups provide the ideal test of form for the PyeongChang favourites, as well as securing athletes final qualification points for the Winter Games.
Record-breaking coverage for Para alpine World Cups
Following Para alpine skiers on the slopes has never been easier thanks to the first dedicated website for the World Cup series. You can watch live coverage, catch up on highlights and reviews, and see results as they come in live on the site. It is the first time every World Cup of the season has been live streamed – almost as good as being there!
Get your tickets!
And speaking of being there, tickets for the PyeongChang 2018 Paralympic Winter Games are now on sale. Prices for each event, getting around for spectators and more can be found on PyeongChang 2018's website. Do not miss out on your chance to be part of history.
Be a Samsung Paralympic Reporter
If being just a spectator is not enough for you, then how about reporting on the Games? In partnership with Samsung, the IPC will fly three Para sport super-fans to PyeongChang to become Paralympic Bloggers for the Games. Sound good? Check out all the details of how to enter the competition here.
Russian Paralympic Committee suspension update
The suspension of the Russian Paralympic Committee (RPC) has been maintained, but Russian athletes are currently competing as neutrals in qualification events for PyeongChang 2018. A final decision on Russia's participation at the Paralympic Winter Games will be announced later this month. The story so far can be found here.