Hall and Starker Speed to Titles at NORAM Cup on Copper Mountain
16.12.2011
New Zealand and Canada prove why they're the ones to beat on the slopes.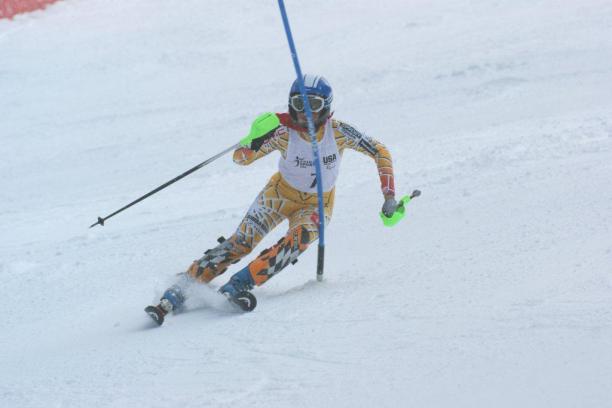 Alex Starker
© • Brianne Law
By IPC
Adam Hall proved why he is the king of mountains this week, finishing in first place on both days of the men's Standing Slalom competition at the International Paralympic Committee's (IPC) NORAM Cup on Copper Mountain in Colorado, USA from 12-15 December.
The New Zealand native, the defending Paralympic gold medallist in the Standing Slalom, cruised to first place with a time of 1:26.67 on the first day of the event and easily garnered the title on the second day with a time of 1:19.46.
Paralympic silver medallist Josh Dueck of Canada certainly did not go unnoticed, garnering the title on both days in the Sitting category with times of 1:32.02 and 1:25.57.
Australia's Jonathon Walsh won the Visually Impaired category.
In the men's Giant Slalom, the USA's Mark Bathum won both days of competition in the Visually Impaired class, while Australia's Mitchell Gourley swept the field in the Standing category. Dueck won the first day's competition in the Sitting class, but finished third on the second day, surrendering first place to the USA's Stephen Lawler.
Team Canada shined on the women's side of the competition as well, with 17-year-old Alexandra Starker winning both days of the Giant Slalom Standing event by large margins. Her time of 1:52.76 on the first day was more than 20 seconds faster than second-place finisher Stephanie Jallen of the USA, who she beat by more than 27 seconds in the event's second day.
Starker also won both of the Slalom Standing competitions, with Jallen once again taking second in both.
Canadian teammate Kimberly Jones won three of her four events, including both days of the Slalom Sitting competition, and one day of the Giant Slalom Sitting event.
Australia's Melissa Perrine won both days of the Giant Slalom Visually Impaired event and the USA's Danelle Umstead won both days of the Slalom Visually Impaired category.