Germany selects men's team for Wheelchair Basketball European Championships
10.03.2015
National coach Nicolai Zeltinger has named 13 players to the provisional squad including three newcomers.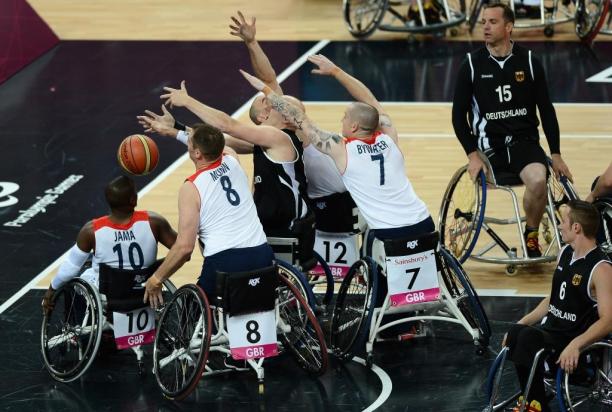 Action from the Wheelchair Basketball match between Great Britain and Germany at the London 2012 Paralympic Games
© • Getty Images
By IPC
Germany has announced their men's team for the 2015 IWBF Wheelchair Basketball European Championships taking place in Worcester, Great Britain from 28 August to 6 September 2015.
National coach Nicolai Zeltinger named 13 players to the provisional squad that will play not only for the medals in Worcester, but also for a qualification spot for the Rio 2016 Paralympic Games. Five of the 12 men's teams competing will qualify directly for the Rio Paralympics.
The team includes three newcomers: Marcus Kietzer from Jena, Jan Sadler from Hannover, and Minsk born Aliaksandr Halouski whose naturalisation process is about to be finalised.
Sadler, 21 years of age, would be the fourth U22 world champion to make the transition to the national team.
Dirk Koehler and Sebastian Magenheim return to the national team, while Jens-Eike Albrecht, Kai Moeller, Felix Schell and Marco Zwerger did not make the squad.
The Championships will welcome 12 men's and seven women's team. The Great Britain men's team is looking to defend their title for the third consecutive time.
Find a full list of team Germany players below:
Becker, Thomas
Bienek, Andre
Böhme, Thomas
Haller, Jan
Halouski, Aliaksandr
Heimbach, Matthias
Huber, Christopher
Kietzer, Marcus
Köhler, Dirk
Lohmann, Bjoern
Magenheim, Sebastian
Passiwan, Dirk
Sadler, Jan