Germany and Russia Vie for Giant Slalom Medals
29.03.2012
Russia won more medals in the Giant Slalom, but Germany is still topping the rankings with just one day left at the IPC Alpine Skiing Europa Cup.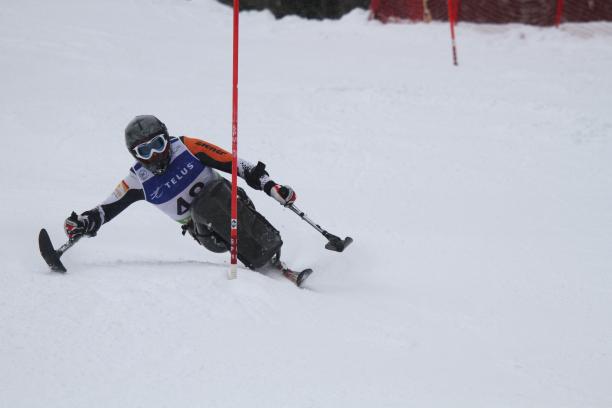 Germany's Thomas Nolte is part of the German sit-ski 'dream team' that pushed them up the rankings table at the IPC Alpine Skiing Europa Cup
© • Michael Knaus
By IPC
Going into the final day of the International Paralympic Committee (IPC) Alpine Skiing Europa Cup, Germany is still the top team, with 6,095 points. Austria is second on 5,702 points and France third with 5,409 points.
Germany also leads the overall rankings for Giant Slalom, but Russia dominated the podium Thursday's (29 March) races in Auron, France.
Russian athletes won three gold and two bronze medals, whilst Germany picked up two golds and one bronze.
Alexandra Frantseva increased her lead in the women's Visually Impaired category. She's now on 1,160 points, with Great Britain's Kelly Gallagher second on 560 points.
Valery Redkozubov won the second Russian gold in the men's event, with teammate Ivan Frantsev taking bronze. Slovakia's Jakub Krako claimed silver, but is still the highest ranking skier in the men's Visually Impaired category with 1,345 points. Redkozubov has 1,110.
The other gold was won by Alexandr Alyabyev in the men's Standing and teammate Alexander Vetrov won bronze. Silver went to the highest ranking men's Standing skier, Austria's Markus Salcher, who has 1,099 points overall.
Germany won its two gold medals in the sit-ski races.
Anna Schaffelhuber beat Switzerland's Sonja Wyss and Great Britain's Anna Turney, who took silver and bronze respectively. Schaffelhuber now leads the rankings on 1,720 points, with teammate Anna-Lena Forster in second place on 860 points.
Georg Kreiter won the men's race, with Austria's Roman Rabl second and France's Yves Jean Le Meur in third place. Germany's Thomas Nolte, who came fourth, currently leads the rankings for the men's Sitting on 935 points.
Italy's Melania Corradini, who leads the women's Standing rankings, won the Giant Slalom race ahead of France's Marie Bochet and Germany's Andrea Rothfuss.
Racing continues on Friday 30 March with a Slalom event, the final race of the Europa Cup.