Future of vision impaired skiing discussed
06.05.2019
Experts meeting held at IPC headquarters to review research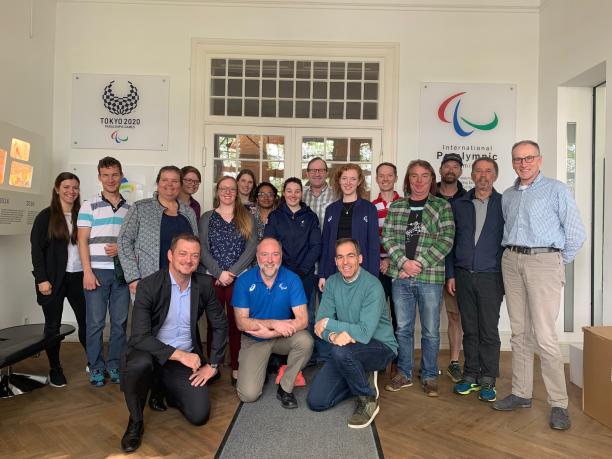 Vision impaired classification in alpine and Nordic skiing was discussed at the IPC's headquarters in Bonn
© • IPC
By World Para Alpine Skiing and World Para Nordic Skiing
The 2018-19 Para snow sports season might be over. But planning for next year, and years to come, has quickly begun with intensive research meetings held last month in Bonn, Germany.
The big topic discussed at the International Paralympic Committee's headquarters was vision impaired classification, particularly in alpine skiing and Nordic skiing.
Two researches from the Waterloo University in Canada were conducted during competition events with athletes and their guides/coaches.
"WPAS/WPNS will be among the first sports to adopt a sport-specific classification system for athletes with vision impairment, and many other sports and IFs will take advantage of the learnings of this project."
Now, the findings and suggestions on how to move forward with the information were presented in Bonn, with the support of the German Federal Ministry of the Interior, Building and Community.
Peter Van de Vliet, IPC Medical and Scientific Director, said: "The purpose was a consultation with athletes and sport experts on the research findings and check if these were 'meaningful' from a sport perspective. A lot of input was gathered and additional analyses conducted and/or initiated to further improve the recommendations."
Two days were devoted to dissecting the findings for Nordic skiing, and the next two for alpine skiing; and deciding how to move forward with vision impaired classification.
A mix of 17 experts, which included athletes, coaches, classifiers, researchers and officials, analysed the information extensively.
Among the athletes who attended was Great Britain's Menna Fitzpatrick, PyeongChang 2018 Paralympic and world champion in alpine skiing.
"My role in the classification meetings is to give an athlete perspective on what research they've collected and see how it translates for visual impairment, and to try and help the sport progress in making it fairer for athletes to compete in," Fitzpatrick said.
"As an athlete, it's my responsibility to help the sport progress and keep it fair for everyone as much as I can."
"I also think it's really good that they are looking into this and on how classification works. There has been some cases in sports that classifications have not been quite right. Or there is such a huge diversity of impairments that they can't cope with all of those. Classification can never be perfect. But it is important to try and get it close to perfection as possible."
Slovakian alpine skiing world champion Marek Kubacka and his guide Maria Zatovicova said they hope to relay the information and new learnings from the expert meetings with their colleagues at home, where they are determined to improve VI skiing.
"We hope that Para alpine skiing will be fairer," Zatovicova said. "With the VI categories, we think there are some VIs who need to be maybe classified again or reclassified, so I hope the meetings will help the sport be fairer."
The next step is to further present the research findings to the World Para Snow Sport forum in Belgrade, Serbia, this week.
Van de Vliet said: "VI-classification historically was not sport-specific. Over the past couple of years, World Para Alpine Skiing and Nordic Skiing partnered with the School of Optometry and Vision Science of Waterloo University to develop a sport-specific classification system.
"We want to express our great appreciation for the research done by Dr. Kristine Dalton and her team at Waterloo University, with the support of the IPC Classification Research & Development Centre at the Free University of Amsterdam. WPAS/WPNS will be among the first sports to adopt a sport-specific classification system for athletes with vision impairment, and many other sports and IFs will take advantage of the learnings of this project."