Foundation for Global Sports Development supports Paralympic education programmes
10.01.2018
The organisation's continuous support was fundamental to Agitos Foundation's projects in 2017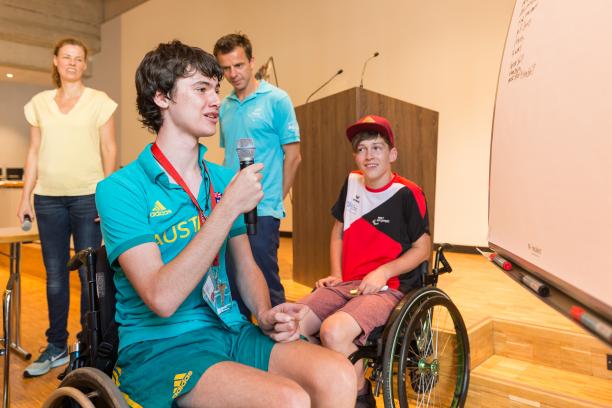 Thanks to GSD's support, the Proud Paralympian programme reached more than 1000 athletes in 2017
© • Agitos Foundation
By Agitos Foundation
In 2017, the partnership between the Agitos Foundation and The Foundation for Global Sports Development (GSD) continued to help raising awareness and knowledge of Para sport around the world.
Starting in 2011, the organisation has been supporting various projects in the Paralympic Movement and, since 2016, has announced a five-year partnership with the Agitos Foundation focused on education programmes.
David Ulich, GSD executive board member, said: "We have a strong relationship with the Agitos Foundation, and over the years we have enjoyed watching its programs flourish. We are glad to support programs that have the power to truly make a difference in lives and our communities."
"We are glad to support programs that have the power to truly make a difference in lives and our communities."
In 2017, GSD was the main funder for the International Paralympic Committee's athlete education programme, Proud Paralympian. Thanks to its support the programme reached more than 1,000 athletes in events hosted in six countries.
Annually GSD's support is also fundamental to supporting education projects within the Agitos Foundation Grant Support Programme (GSP). In the 2017 edition, two initiatives received funding. The first was a project from the Asian Paralympic Committee to inspire the next generation of young athletes in Asia, through a Proud Paralympian leader training and outreach activities during the 2017 Asian Youth Para Games in Dubai.
The second funded project is a US Paralympic Committee initiative to develop Para swimming in the Americas, targeting Aruba, Dominican Republic, Ecuador, Panama and Puerto Rico. These NPCs will take part in education courses for coaching and technical officials – both aiming for 50% female participation rate – as well as a national classification opportunity at the 2018 Jimi Flowers Classic swim meet.
GSD has also supported the launch of the I'mPOSSIBLE education programme. After successful pilots in Japan, Armenia and Colombia, the Paralympic Movement's pioneering education programme - which aims to change perceptions about people with an impairment and inspire the next generation through the Paralympic values - was launched globally in December 2017.
Steven Ungerleider, GSD executive board member, said: "Because of the I'mPOSSIBLE programme, young people around the world are learning the Paralympic values. We know our continued support of the Agitos Foundation and this programme will allow even more youth to experience the joy of the Paralympic Movement and contribute to an inclusive society."