Five things to know: Italy's sledge hockey team
14.01.2014
Find out why Italy are going into the Sochi 2014 Paralympics with little to lose as the seventh-ranked team.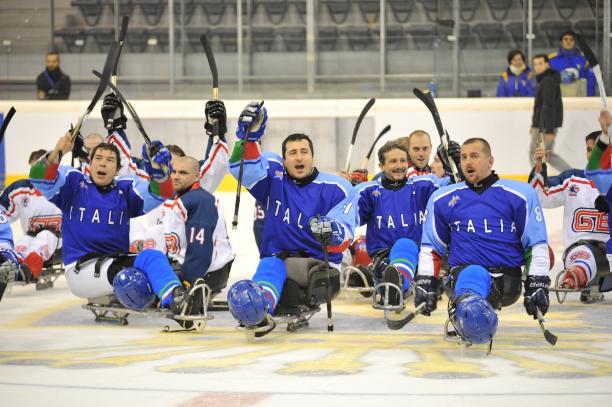 Italy defeated Great Britain 8-0 in the opening game of the IPC Ice Sledge Hockey Qualification Tournament.
© • Francesco A. Armillotta
By IPC
1. Italy are heading to Sochi 2014 as the defending European champions, having won the continental title last in 2011. However, they have yet to win a medal on the Paralympic stage.
2. Multiple members of the Italian ice sledge hockey team actually began their para-sport careers as skiers. Leading scorer, forward Florian Planker, represented Italy at three Paralympic Winter Games from 1998-2006 in alpine skiing, while the team's top defenceman, Gianluigi Rosa, competed on the IPC Alpine Skiing World Cups circuit in 2009.
3. After finishing in fourth place in wheelchair fencing at the London 2012 Paralympics, Andrea Macri will now join Italy's sledge hockey team in Sochi, where he hopes to get his first Paralympic medal.
4. Italy were first represented in ice sledge hockey at the Paralympic level at the Torino 2006 Games, where they finished in eighth place as the host nation.
5. The 2014 Games may be the last time for veteran forwards Andrea Chiarotti and Greg Leperdi – both three-time Paralympians – to win their first Paralympic medal.