Fight for Tokyo 2020 continues at Asian Championships
17.07.2019
Para taekwondo fighters look to improve ranking positions in Jordan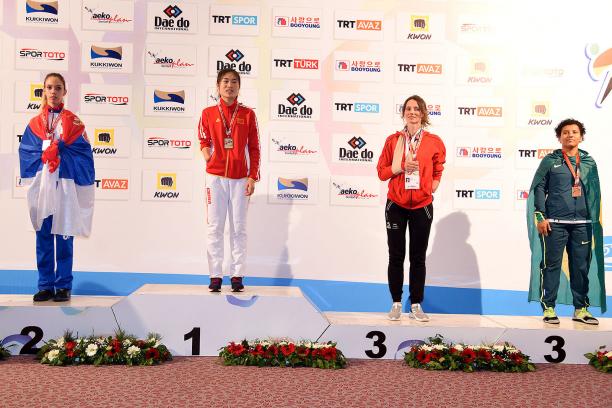 Yujie Li (second left) was crowned world champion in the women's under 58kg K44 at Antalya 2019
© • Turkey Taekwondo Federation
By Lee Reaney and the IPC
The journey along the Tokyo 2020 Paralympic qualification calendar stops in Amman, Jordan, with the Asian Para Open Taekwondo Championships kicking off Thursday.
Fighters will line up to try to win – or protect – their ranking points, as Asian athletes can collect twice the points as their non-Asian competitors.
The tournament has attracted 149 athletes from 34 nations. Host Jordan will be led by Ahmad Makableh, who will try to improve on his ninth-place finish at the African Open Championships earlier this year.
Nearly every top 10-ranked fighter in all K44 divisions will be in Jordan, except for Denmark's injured Lisa Gjessing and most fighters from the Americas, who have their own G-4 tournament in next month's Parapan American Games in Lima, Peru.
All eyes will be on China's first world champion Yujie Li. Unranked going into the World Championships in February, Li will likely move into the women's up to 58 kg division's top four with the 40 points a gold medal awards (to an Asian fighter).
Fighters ranked in the top four earn an automatic spot at the Tokyo 2020 Paralympic Games for their country.
With very tight qualification races, both the men's over 75 kg and up to 61 kg divisions will be competitions to watch.
Seven of the top eight fighters will compete in the over 75 kg division, while all top eight fighters will compete in the up to 61 kg tournament. Each one still has a chance to qualify, with lower-ranked fighters needing a victory to keep their qualification hopes alive.
Chuncheon Korea Open review
A new Para taekwondo star emerge, fittingly, from the country where the sport was born, as South Korea's Jeonghun Joo won his home Chuncheon Open that finished 10 July.
Joo put himself on the map in the men's up to 75 kg K44 with a remarkable performance to claim his second international title.
Along the way, Joo got past the likes of top athlete in Morocco's Mohammad Aatif, and now looks ahead to the Asian Open Championships in Amman.
The long-awaited matchup between Brazilian world champion Debora Menezes and Great Britain's No. 1-ranked Amy Truesdale took place in the women's over 58 kg final. Truesdale got the better of her rival, capturing her second title of 2019 in a 13-3 win.
Fresh off her impressive Oceania Open Championships performance, Australia's Janine Watson captured bronze after getting by France's No. 3-ranked Laura Schiel.
On the men's side, Great Britain's world champion Matt Bush fell in a close match in his second straight tournament, losing to Russia's No. 4-ranked Aliskhab Ramazanov in the semi-final. Ramazanov captured silver after falling to compatriot Zainutdin Ataev (No. 3) in the final.
After suffering her first international defeat last week at the Oceania Open to Turkey's Gamze Gurdal, China's Yujie Li got back on track beating her Turkish rival 14-5 in the women's up to 58 kg final.
Russia and Turkey dominated the men's up to 61 kg tournament, claiming all the medals. Russia's Daniil Sidorov (No. 3) finished on top by edging Turkey's Mahmut Bozteke (No. 2) 14-13 in the final. Turkey's Ali Can Ozcan and Russia's Askhat Akmatov claimed bronze.
In the K43 tournaments, France's unbeatable Bopha Kong won his 13th straight tournament, while Ukraine's Vika Marchuk likely wrapped up her qualifying spot at the 2020 Paralympic Games with a performance so dominant she was named the tournament's top fighter.