Fabulous five for Olena Chynka
24.04.2019
Para dance season opens in style on Dutch dance floor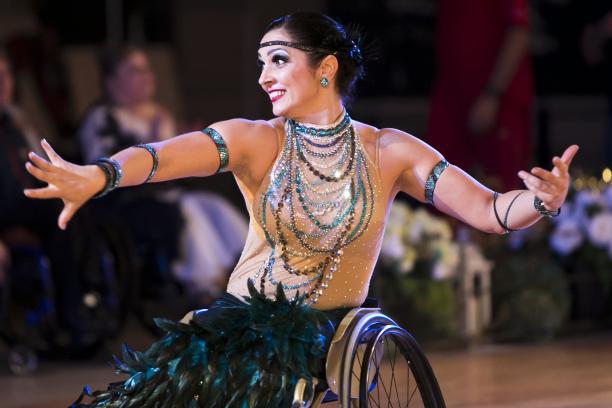 Ukrainian European champion Olena Chynka
© • Roman Benicky
By World Para Dance Sport
Five-time European champion Olena Chynka marked her comeback to competition with a staggering five golds at the Para Dance Sport International Competition in Cujik, Netherlands.
The Ukrainian triumphed in the women's freestyle and standard class 2; and duo standard, freestyle and Latin class 2 alongside Oleksandr Onishchenko.
Ukrainian dominance
Chynka was not the only standout Ukrainian dancer as the European country secured another six golds to finish top of the medal standings.
Multi-world champion Illona Slugovyna was unstoppable as she claimed the duo freestyle and standard class 1 together with Valerii Bevziuk. The 34-year-old also won the women's standard class 1.
Bevziuk proved to be the perfect partner as he also topped the podium in the combi freestyle class 1 alongside Veronika Pedchenko.
The other two Ukrainian winners were Snizhana Kernychina (women's freestyle class 1), and Onishchenko and Svitlana Onopa (combi freestyle class 2).
Belarus and Kazakhstan on top
Outstanding performances from Belarusian and Kazakh dancers were also witnessed on Dutch soil.
Belarus' couples were in top form as Hannah Harchakova and Roman Usmanov (combi standard class 2), Hanna Siratsiuk and Ihar Kuliashou (combi Latin class 1) and Irina Makeichyk and Yauhen Yarmoshka (combi standard class 1) all won their events.
Kazakhstan's Asian champion Yermek Kalymbetov followed up his win at the Beigang Open in Chinese Taipei last October with two golds in the men's standard and freestyle class 2 in Cujik.
Kazakh duo of Nargiza Akmetova and Serzh Avanessov added a third gold in the combi Latin class 2.
A total of 85 Para dancers from 15 countries participated.