Exciting Slalom Finshes at Whistler Creekside
15.03.2010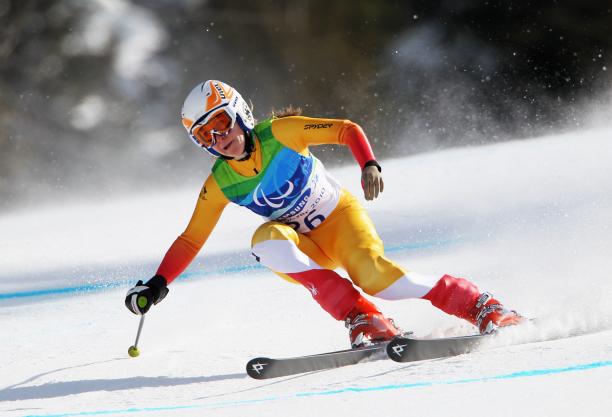 Competes in the Women's Standing Downhill during Day 7 of the 2010 Vancouver Winter Paralympics at Whistler Creekside on March 18, 2010 in Whistler, Canada.
© •
By IPC
In both the Men and Women's Slalom events (Standing category) crashes played an important role in the final race standings.
After a fast race from Karolina Wisniewska (CAN, LW3-1), strong medal contender Petra Smarzova (SVK, LW6/8-2) fell at the beginning of her second run. This allowed for Wisniewska to win a bronze medal. She was joined on the podium by fellow Canadian and gold medallist Lauren Woolstencroft. Woolstencroft had an incredibly fast run with a combined time of 1:51.97 and finished 6.38 seconds ahead of silver medallist, Andrea Rothfuss (GER, LW6/8-2).
After winning by such a large margin Woolstencroft stated, "I'm really surprised. Slalom has not really been my event this year at all. It felt way better than when I've been racing all year."
In the Men's Slalom, a crash also added to the excitement of a great race. Adam Hall (NZL, LW1) finished his first run with a lead of over two seconds. That lead turned out to be crucial in the last run as Hall fell after one of the final few gates. He was able to quickly get up and rush to the finish line.
Hall's final time of 1:45.40 was only 0.57 seconds faster than skiing legend and silver medallist Gerd Schoenfelder (GER). Cameron Rahles-Rahbula (AUS) finished in the bronze medal position.
"I knew I had a good advantage through the first run. To come down here and see your name and your country on the top of the list is pretty amazing," Adam Hall said upon reflection of his fall and gold medal run, "It's all about courage and trying to inspire other people."