European and Pan Am archery champions crowned
21.08.2018
Regionals take place in Colombia and Czech Republic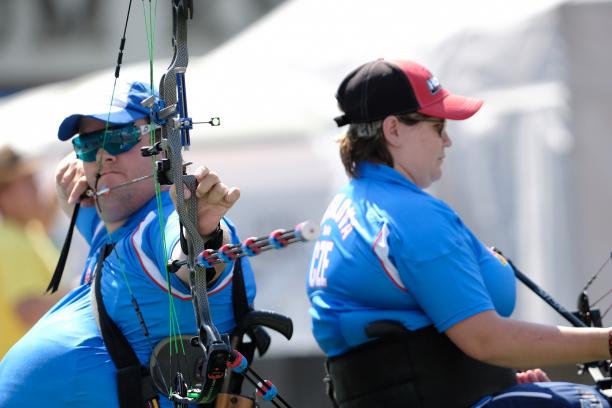 David Drahoninsky (L) and Sarka Musilova celebrated home success at the 2018 European Championships
© • Jan Povýšil
By Lena Smirnova for the IPC and World Archery
Brazil and USA struck gold at the Para Pan American Championships that wrapped up on Sunday (19 August) in Medellin, Colombia. Simultaneously across the Atlantic Ocean, David Drahoninsky and Sarka Musilova secured home victories at the European Para Archery Championships in Pilsen, Czech Republic.
USA unstoppable at Para Pan Ams
US archers swept the men's recurve open event, with Kevin Mather topping the podium.
Having competed at the 2017 World Para Alpine Skiing Championships, Mather traded his mono-skis for a bow and arrow to make his competitive debut less than a year ago at the 2017 World Archery Para Championships. The choice paid off, as Mather beat out the field along with top-ranked teammates Timothy Palumbo and Michael Lukow, who finished second and third, respectively.
Joining forces, the US men also claimed gold in the recurve team event, beating Mexico and Brazil, respectively.
The trend of US dominance carried into the men's compound open competition, where their archers once again claimed all podium spots. Army veteran Lance Thornton won the event, with teammates Richard Burkett and Worlds medallist Ben Thompson finishing second and third, respectively.
Together the teammates also grabbed gold in the team event.
Brilliant Brazil
In the women's competition, Brazil won gold in both individual events; Fabiola Dergovics topped the women's recurve open podium, ahead of teammate Thais Silva Carvalho and third-place Valdes Cathia of Mexico.
Brazilian world No. 1 Jane Karla Gogel came first in the women's compound open. Gogel continued her excellent season, beating Mexico's Liliana Montiel, while five-time Canadian Paralympian Karen Van Nest could not defend her title as she came in third.
Brazil also captured top spots in both mixed recurve and compound team events.
Complete results from the 2018 Para Pan American Championships are available on World Archery's website.
Home happiness at European Championships
Drahoninsky and Musilova joined forces to win the W1 mixed team title at their home Championships in Pilsen, amid a team finals day that saw Russia* take three gold medals.
"I was prepared for it and Sarka was excellent today," said Drahoninsky. "I just kept doing what everyone was expecting from me – shooting 10s."
Seeded second behind Great Britain after the ranking round, the Czech pair were excellent in the Pilsen arena. The Rio 2016 Paralympic bronze medallists opened with a 38-point set and went on to win, 147-135.
"It's an amazing feeling, especially when you win at home in the Czech Republic, that's the best. The atmosphere today was incredible… and David really supported me and helped a lot," said Musilova.
Drahoninsky also took silver in the individual men's W1, which was won by Turkey's Bahattin Hekimoglu.
Italy won the compound men's open team title, with Matteo Bonacina securing the individual title.
Slovakia won a shoot-out with Great Britain to secure the compound mixed team gold. Both pairs had 150 points after regulation, but Slovakia shot a perfect 20 to win the tiebreaker.
"It's very exciting, it's my first gold medal from a big tournament, so I'm still shaking from the excitement," said Slovakia's Diana Pashchenkova.
"I think we had luck on our side today, but it's really difficult to control the stress in the shoot-off. It's a really beautiful place, but it's a bit different, so we had to adjust a bit today, but we enjoyed that."
Great Britain were able to secure a few medals of their own, led by 2016 Paralympic silver medallists Jo Firth with her gold in the women's W1.
Complete results from the 2018 European Para Archery Championships are also available on World Archery's website.
*Editor's note: The International Paralympic Committee suspended the Russian Paralympic Committee on 7 August 2016 for its inability to fulfil its IPC membership responsibilities and obligations, in particular its obligation to comply with the IPC Anti-Doping Code and the World Anti-Doping Code (to which it is also a signatory). As a result of the suspension, Russian athletes cannot enter IPC sanctioned events or competitions, including the Paralympic Games.