Etherington still "shocked" by Sochi impact
26.06.2014
Great Britain's most decorated Winter Paralympian still cannot believe how many people tuned in to see her and guide Caroline Powell compete at Sochi 2014, the Games through which she became not only a four-time Paralympic medallist, but also a celebrity.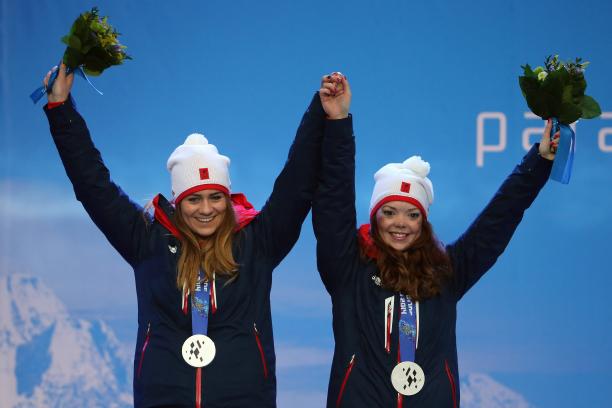 Jade Etherington and Guide Caroline Powell of Great Britain celebrates winning Silvier in the Women's Slalom - Visually Impaired at the Sochi 2014 Paralympic Winter Games
© • Getty Images
By Jake Duhaime | For the IPC
"Being from the flattest county in Britain, it is pretty ironic that I am a downhill ski racer, but it just goes to show no matter where you come from, you can still achieve what might have been thought possible."
When Jade Etherington became the first British woman to win a Paralympic Winter medal at Sochi 2014, she became an overnight sensation.
Now Great Britain's most decorated Winter Paralympian is enjoying her post-Russia honeymoon and is not thinking about competing for a while.
"I'm trying to have a break at the moment," she says. "The official season starts in October, so watch this space."
The 23-year-old visually impaired skier won silver medals in the downhill, slalom and super combined, and a bronze medal in the super-G.
In the months that have followed, Etherington's life has consisted of school visits, awards shows and appearances to promote the growth of para-sport.
"I love the interaction between myself and the people who are interested and have been inspired by my journey," Etherington says. "That's been the main highlight for me. I am still shocked at how many people were up early watching our races."
More than just her grandparents woke at 5:15am to watch the Lincolnshire native ski against the world's best in Rosa Khutor.
Since London hosted the Games in 2012, there has been a growing emphasis and appetite for para-sport in Great Britain.
"We really wanted the Paralympics in Sochi to be a chance for our winter sports to shine and to raise their profile amongst the British public," said Penny Briscoe, the British Paralympic Association's (BPA) Chef de Mission for Sochi 2014. "Both alpine skiing and wheelchair curling have achieved this and so we hope this will have an impact on the number of people who consider taking up winter sport."
In addition to newfound fame for its athletes, the BPA and Disability Snowsport UK have worked together on a series of events designed to introduce the sport to the public.
Etherington's story proves that the next shining star can come from the most unsuspecting of places.
"Being from the flattest county in Britain, it is pretty ironic that I am a downhill ski racer, but it just goes to show no matter where you come from, you can still achieve what might have been thought possible."
You could say that approach was instrumental in Etherington's search for a guide, which led her to Caroline Powell in April of 2013. After posting on Facebook, coach Euan Bennet connected the two, who quickly hit it off using the social networking site. That communication then led to the mountain where Powell preached the opportunity to ski better and faster.
"I have learnt more about skiing with Caroline in these last six months than I have over the last six years," Etherington says. "She can help me perform and technically ski better and faster."
Etherington's success helped her country notch seven top 10 finishes in Sochi, including five medals. None more special than a silver medal in the downhill on her 23rd birthday, something she foretold happening after a dream during the 2013 IPC Alpine Skiing World Cup Finals in Sochi. The country also won its first gold medal on snow when Kelly Gallagher and her guide Charlotte Evans won the super-G.
The performance led to Etherington being selected as Great Britain's flag bearer during the Closing Ceremony, something she was able to do despite having to withdraw from the giant
slalom due to an illness.
"We missed the Opening Ceremony because we were training for the downhill the next day, so this was a brilliant end to our Games. Just myself and Caroline on a high", she said.
For now, Etherington is uncertain about the next season which will feature the 2015 IPC Alpine Skiing World Championships in Panorama, Canada.
One thing is for certain. The success of Great Britain in Sochi could pave the way for future generations of winter sports athletes, even in the most unlikely of places.