Ellen Keane ticking all the right boxes
06.06.2019
Irish swimmer using opportunities created by Euro 2018 success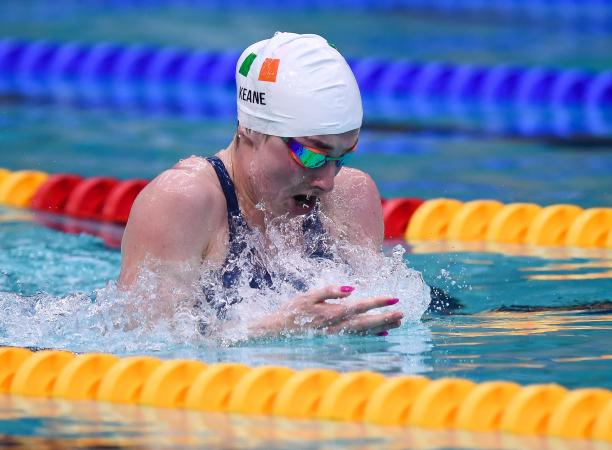 Ellen Keane was one of the stars of the 2018 European Championships in her hometown Dublin
© • David Fitzgerald/Sportsfile
By Amp Media | For World Para Swimming
Paralympic Games bronze medallist and European champion Ellen Keane has a new award to celebrate as she takes on the world's finest swimmers at the Para Swimming World Series finale in Berlin.
Keane – who competes in the 50m and 100m breaststroke, the 50m backstroke and the 200m individual medley in the German capital – has just been officially verified as a sporting star on Twitter.
"It makes a huge difference as it makes it easier to get my message out there and to raise the profile of Paralympic sport," Keane said after her first race on Thursday, before joking: "It only took three Paralympic Games and a European Championships to get it!"
"At London 2012 loads of my family and friends came over so I'm hoping that it will be the same for the World Championships."
Keane was Ireland's youngest ever athlete when she made her Paralympics debut at the Beijing 2008 Games. It was the 2016 Games in Rio de Janeiro which catapulted her to fame, however, when she took bronze in the 100m breaststroke and the accompanying photo of her with her fellow medallists, arms held aloft on the podium, became one of the defining sporting images of the Games.
Ambassador Ellen
Since further boosting her credentials with Ireland's only gold medal at the 2018 European Championships in Dublin, the 24-year-old has been showing another side to her talents, through her candid tweets and video blogs.
"I'm taking advantage of every opportunity that I get," Keane said. "I'm an Allianz Ambassador, a Citi Ambassador, a Toyota Ambassador - all of those big companies are just doing their best to get my name out there and help raise the profile."
Keane is using the Berlin World Series finale this week to boost her preparation for the Tokyo 2020 Paralympic Games.
"I've decided to focus a lot more on breaststroke so that when it comes to Tokyo, I know that I've put my all into it and hopefully that will show in my swimming," she said.
Despite battling the effects of a recent illness, Keane is expecting good results in Berlin.
"I've been sick over the past couple of days. I've had really bad sinuses, so I've just been trying to get them under control especially in the pool, because breathing is the main thing. I was a bit nervous about that, but I think I'm better now," she said.
Fast pool for good results
Keane believes the conditions at the SSE in Berlin can push her to even better performances.
"It's a fast pool," she said. "I think it's the mix of the depth of the pool and how warm the environment is here, so when you actually dive in it's quite cold, and that adds a shock effect which makes you go faster. [But] I've been here before and I love competing here so I'm really excited."
Keane's immediate focus beyond the Berlin World Series finale is the world championships in London in September, when she will revisit the scene of the 2012 Paralympic Games, in which she reached three finals while still aged only 17.
The Dubliner hopes the close proximity of the championships to Ireland will ensure she is once again backed to the full.
"At London 2012 loads of my family and friends came over so I'm hoping that it will be the same for the World Championships," she said.
The Berlin World Series continues until Sunday with live results available here.
You can watch the competition live on World Para Swimming Facebook page.