Education in Para dance sport a powerful tool
18.07.2019
Dance instructors draw inspiration from course in USA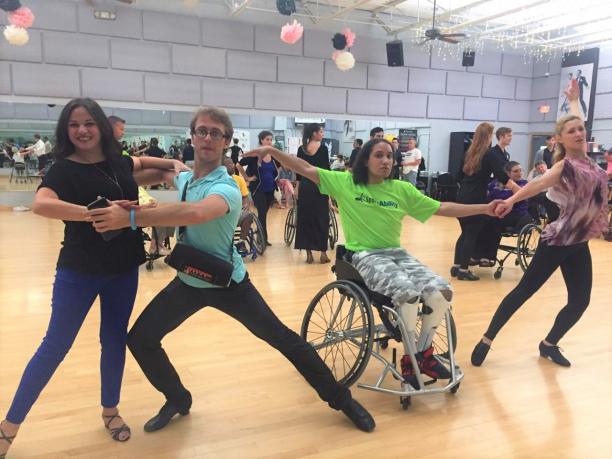 The second edition of World Para Dance Sport's education course was a success in Michigan, USA
© •
By World Para Dance Sport
Growing interest of Para dance sport in the USA was evident at Michigan's Fred Astaire Dance Studio, which on 14 July wrapped up its second education course that drew even more participation.
The second edition saw 29 dance instructors – a mix of first-timers and returnees from 2018 – attend to learn about the sport and how to bring it to their own dance studios.
Arkadiy Stepanchuk from New York was among the newcomers. He said he was hoping to learn the basics of dancing with a wheelchair user.
"It is about inclusivity, and you do not necessarily have to compete at a high-performance level"
"I have done it before and want to bring it back to New York and hopefully compete," Stepanchuk said. "Everyone can dance – this is in line with my organisation Du Dance.
"I learned the fundamentals of wheelchair movements, timing and different ways you can use the wheelchair to create steps and moves. It was very empowering to see how someone can dance so elegantly and musically in a wheelchair. I want to show the world everyone can dance."
"It is about inclusivity, and you do not necessarily have to compete at a high-performance level," he added.
Melinda Plante attended the first World Para Dance education course in 2018. She is part of the Fred Astaire Dance Studio branch in Wisconsin and was looking to gain more instruction and knowledge about how to start a Para dance programme.
After two courses, she feels even more confident on what to do when a person with a disability attends her studio.
"You need to re-think and be patient when starting a programme," Plante said. "There are several ways to participate in Para dance.
"We have a new studio and we want to go home and contact hospitals and rehabs facilities, and present Para dance as a project and work together with them.
"Now, I have the tools and a wheelchair at the studio. I know where to go. I also know more about the International Paralympic Committee and World Para Dance Sport."
MariCarmen Legaspi, who is on the World Para Dance Sport Technical Committee, returned to lead the course again and was encouraged by the instructors taking more of a lead during workshops.
"This time the participants tried to teach and create short routines — samba, rumba, chachacha, tango and waltz," Legaspi said.
"They learned to work in teams (coaches, couples and singles) and to work with people with different disabilities.
"There was an amazing vibe, course flow, and some people with previous knowledge in dance and Para dance. The group of participants was very open to try and experience things. The challenge was that we had a big group and needed to make sure everybody experienced the course. But it seemed to work out well."