Dublin 2018: Top four performances
22.08.2018
The swimmers that shone at European Championships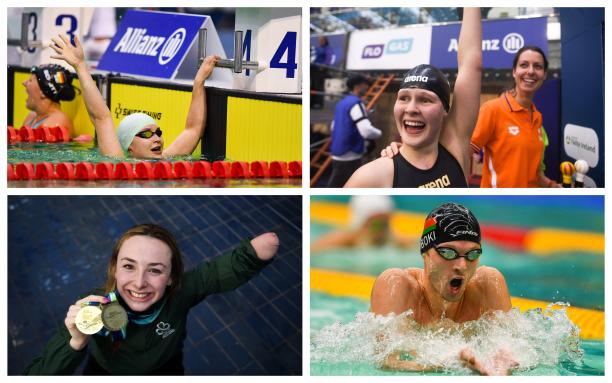 (Clockwise from top left) Mereshko, Bruinsma, Boki and Keane had a Dublin 2018 to remember
© • Sportsfile
By IPC
Dublin was not short on fantastic performances during the seven days of the World Para Swimming Allianz European Championships.
It is not a simple task to select only four, but here are some medallists to be remembered.
Ihar Boki, Belarus
The 24-year-old S13 swimmer won seven gold medals in seven days of competition. As if that was not enough, Boki broke the world record in the men's 100m freestyle – a record that already belonged to him, established at the Glasgow 2015 World Championships. Success is not exactly new to Boki, who was the most successful swimmer at the Rio 2016 Paralympics with six gold and one bronze.
Liesette Bruinsma, Netherlands
Four gold medals and one silver in individual events would already be enough to put the 17-year-old among the top names of Dublin 2018. But Bruinsma also broke three world records at the European Championships, including one that had stood for eight years in the women's 400m freestyle S11. She did not only break it, but comprehensively smashed it by a staggering six seconds.
Ellen Keane, Ireland
The two medals won by the Irish swimmer may not look much compared to some of the other competitors in Dublin. But very few had to deal with pressure to deliver like Keane. She was the face of the European Championships in the host country and duly delivered; winning Ireland their only gold on the closing day of the competition in the women's 100m breaststroke SB8.
Yelyzaveta Mereshko, Ukraine
Ukraine won a record 106 medals at the Euros and Mereshko contributed eight of them (five gold and three silver). The 26-year-old Ukrainian also broke two world records, in the women's 50m freestyle S6 and as part of the mixed 4x50m medley relay 20 pts team. Only Italy's Stefano Raimondi and Spain's Nuria Marques Soto won as many medals in Ireland, but neither could match her tally of golds.