Diede de Groot shares her path to glory
13.06.2019
Dutch player talks competing alongside Federer and Nadal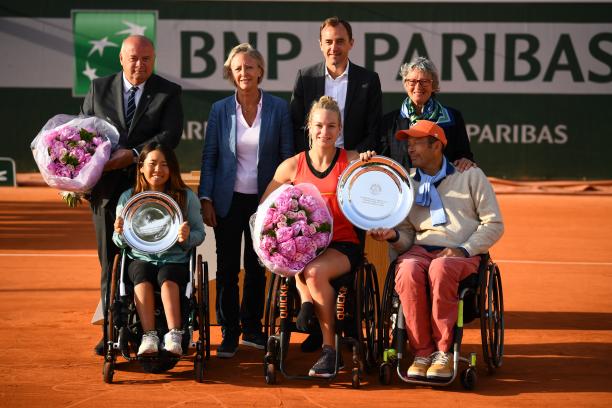 Diede de Groot completed career Grand Slam after winning Roland Garros
© • Getty Images
By Ross McLean | For the ITF
As Roger Federer toasted back-to-back Wimbledon singles titles by overcoming Andy Roddick on the All England Club's Centre Court, Diede de Groot was tentatively embarking upon a new sport which would transform her life.
It was the summer of 2004 and De Groot, who was born with unequal leg length and had undergone a series of hip operations, was exploring wheelchair tennis on the advice of her physiotherapist in a bid to improve movement in her joints.
Initially buoyed by the possibility of sharing a court with her tennis-loving grandmother, a fuse was lit within De Groot which has burned brightly ever since and ignited a passion for scooping the grandest of prizes.
Sharing the winners' roster with the likes of Federer has become commonplace for the 22-year-old. Most recently, De Groot completed a career Grand Slam after winning the French Open.
"When I first started I did not expect any of this to happen," De Groot told ITFWorld. "I just wanted to have fun and when I was seven it was so much fun to be around other children who were also in wheelchairs. I wasn't different anymore.
"I had a really good group of friends who supported me and always took care of me. But as a kid at that age you do feel like you're different even though they treat you the same.
"To be with a group of players, all in a wheelchair and all just starting tennis, was fun and it was really important for me to have that base where I was just happy playing tennis and to feel like a normal kid. Tennis made me feel normal."
The significance of having fun is not a throwaway comment. It is something which has characterised De Groot's career and, in her view, proven pivotal since making her Grand Slam debut at the 2017 Australian Open.
"When I look back, being at my first Grand Slam was an overwhelming feeling," said De Groot.
"It was crazy to be there in that kind of atmosphere with great athletes like Federer and [Rafael] Nadal. I was not ready to compete or perform very well.
"I was the same at Roland Garros that same year. I played a really tough match [against Marjolein Buis] and had some match points but didn't win. That was a let-down.
"But at Wimbledon in the summer, I just decided to have fun. I was just enjoying being there rather than looking at how many people were there or who was sitting in the players' cafe.
"That really helped me win my first Grand Slam and made me hungry for more."
Despite having claimed several Grand Slam titles and having plenty of scope for further glory, De Groot refuses to entertain suggestions she has the potential to eclipse the achievements of compatriot Esther Vergeer.
"Esther went unbeaten for 10 years – I don't think anyone will ever break her records," added De Groot. "Now I'm playing these tournaments I've come to realise how impressive it is.
"I don't have a specific number of titles in mind. The main goal is to improve my game. I still feel as though there is much to improve, which is great because it's already going very well."
One missing accolade from De Groot's back catalogue of success is a Paralympic gold medal, but Tokyo 2020 is very much on her radar.
"The Paralympics is the biggest tournament there is. I competed at Rio, won silver in the doubles and that was a really good first experience.
"Tokyo will be different with me being higher in the rankings and I'm very excited. Successful Paralympians in Holland get to meet the king and experience other special things. A gold medal is something I really want to achieve."
Full story is available on the ITF's website.