China's Xu sensational in pool
03.09.2012
Chinese swimming sensation denies Sascha Kindred in the 200m IM SM6.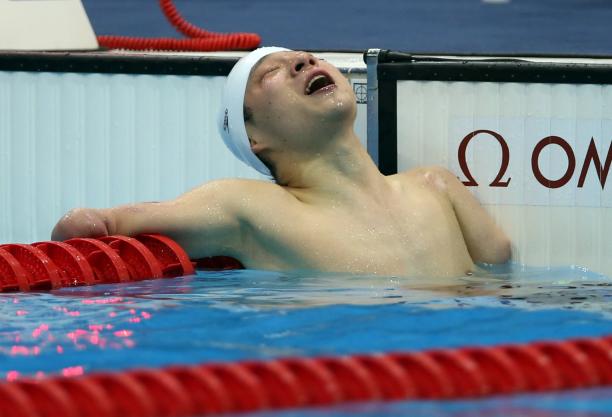 China's Qing Xu celebrates his London 2012 gold in the pool
© • Getty
"I've got a shark tattoo, and that's definitely a lucky charm. It helps me swim faster,"
Chinese swimmer Qing Xu made a remarkable admission after defeating reigning Paralympic champion Sascha Kindred in the men's 200m individual medley SM6 on Monday (3 September).
Xu produced the performance of his life at the Aquatics Centre to knock more than three seconds off Kindred's world record.
Xu, who finished with a staggering time of 2:38.62, said: "I was only after the silver medal – I was not expecting to get a gold medal or break the world record.
"The improvement is down to a bit of luck, as well as the scientific and systematic training I follow. I've also been without a race for four days, so I've built my strength up for this."
Xu's gold medal broke Kindred's dominance of an event he won at Sydney, Athens and Beijing.
And the Chinese athlete revealed he also had a secret weapon. "I've got a shark tattoo, and that's definitely a lucky charm. It helps me swim faster," he said.
Kindred finished second in 2:41.50, shaving nearly half a second off his personal best.
He said: "I got a personal best time on the biggest stage of my life. I can't argue with that. It took a massive effort to beat me, so hats off to Xu.
"I was never expecting gold. You've lost the race before it begins if you do that. He had to beat the world record to beat me, so he had a great swim."
Kindred added: "It was hard to re-focus after the breaststroke, but I had a lot of messages from family, friends and parents of children with disabilities like mine, saying that whatever happens I'm a role model to their kids. That's an inspiration and really lifted me for this race.
"Xu got bronze in Beijing and I got the gold on his home turf. He's turned it round, so hats off to him. I've now got to sit down with my coach and decide what's next, and I'm looking forward to a holiday too.
"Before that I've still got two races to come here. They are both 50 metre races, so it's splash and dash and we'll just see what happens."
Later, Ukraine's Maksym Veraksa pushed himself to the extremes with a Paralympic record time of 2:12.42 to claim gold in the men's 200m individual medley SM12.
Veraksa's exertions left him visibly unwell after a race that saw him successfully defend his Beijing 2008 title.
"It's a very difficult race for me and when I finished the swim, my leg was wobbly," he said. "I needed 30 minutes to feel like myself again."
Veraksa admitted to feeling pressure before the race, saying: "Through the last four days so many swimmers have got medals and I was worried about how I would swim."
He added: "The race was very strong, but I took all my force inside me and put everything into winning.
"I prayed to God before the race, and I called my parents to let them know the news afterwards."
Veraksa now hopes to enjoy the rest of his stay in London. "I've been told I look like (London mayor) Boris Johnson, but I think I'm a bit different to him," he said.
Silver medallist Aleksandr Nevolin-Svetov (Russia) was Veraksa's nearest challenger, but he was still more than two seconds behind with a finishing time of 2:14.45.
"I think I can be champion one day, but I was nervous today," he said. "I wanted to do well for my coach, team and family."